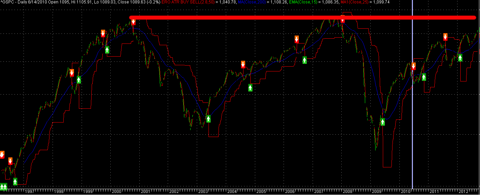 Will The US Stock Market repeat the trend of the past bear market cycle?
Investors were rewarded last week when the Fed announced that QE3 was here and that the Fed was going to do everything in its power to get the economy going again. However, let's not forget that we are still in a bear cycle and many, including myself, think it looks very similar to the last bear cycle - low economic growth, rising energy costs and a risk of inflation at the end of the cycle.
1966-1982
The last Secular Bear Market cycle was from 1966 to 1982, during which we saw five Bear Markets (over -20% corrections) ranging from a -24% to a -45% in durations lasting from 9 to 23 months over a 17-year period of time. However we also saw four Bull Markets (over +20% rebounds) ranging from a +32% to a +75% in durations lasting from 12 to 32 months and one Flat Market with a measly return of only +2% over a 26-month period of time. (One of only seven times the market has had +/- single-digit returns two years in a row in the last 100 years. Another time was just recently, 2004-2005.) So what was the end result of this 17 year Bear Market? The market ended where it started! If you invested in the S&P 500 in 1966, it was 16 years before you saw a gain, and 26 years before you had inflation-adjusted gains.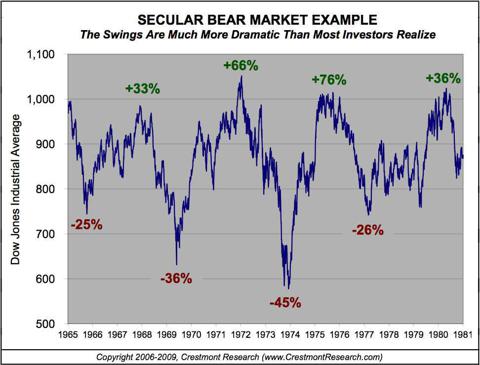 With the exception of the Flat Market that we previously mentioned, the last Secular Bear Market did have a lot of movement. However, instead of that movement being upward as we saw in the cherished 80′s and 90′s, it appears to alternate between one or two years of Bull Markets followed by a nearly equal one or two years of Bear Markets, repeating itself over and over again with what seems to be an invisible "lid" over the up-market peaks. Just as an up-market approached the level of a previous peak, down it went again.
Greed Is Good - Not In A Bear Cycle
The perception of late is that the Fed will come to the rescue. This perception is raising the so called "greed" level in the market. High levels of greed are usually an indication that investors a making decisions based on emotions (greed) and not on logic.

Source: CNN
It will be interesting to see if the market cycle repeats the "invisible top" of 1966-1982. One potential catalyst that may cause us to enter a decline is the fiscal cliff.
Next quarter the U.S. lawmakers have a choice: they can either let current policy go into effect at the beginning of 2013 - which features a number of tax increases and spending cuts that are expected to weigh heavily on growth and possibly drive the economy back into a recession - or cancel some or all of the scheduled tax increases and spending cuts, which would add to the deficit.
From USA Today:
For the first time in 18 months, not even Europe's debt crisis is the No. 1 "tail risk" that worry global money managers. (A tail risk is a rare event that could cause stocks to suffer a disproportionate drop.)

The new megarisk is the looming fiscal cliff in the U.S., according to the survey. The realignment in the pecking order of Wall Street anxieties serves as a warning to Main Street investors wondering what could trip up their investment portfolios at a time when stocks are as high as they've been in almost five years.
The end of the year should be interesting to watch…