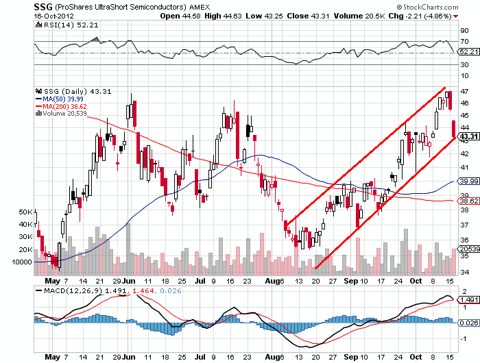 Earlier this week, I mentioned how the tech heavy Nasdaq doesn't look to be in good health: Is Tech About To Lead The Market Lower?
I had mentioned how typically it is the semiconductor index that leads the way. In addition, I started to see a few buy signals on ETFs that track the inverse movement of the index.
One of my favorite of these short term trading signals is based on the Average True Range (NYSE:ATR)
From Investopedia:
Definition of 'Average True Range - ATR'

A measure of volatility introduced by Welles Wilder in his book: New Concepts in Technical Trading Systems.

The true range indicator is the greatest of the following:
-current high less the current low.
-the absolute value of the current high less the previous close.
-the absolute value of the current low less the previous close.

The average true range is a moving average (generally 14-days) of the true ranges.
For my signal, I use a 50 day period. The result is a short term indicator that attempts to forecast the next 1 to 2 quarters.

Click To Enlarge
While no signal works 100% of the time, the ATR of the inverse semiconductor universe may be signaling the next major move in the stock market…