Worries of a global slowdown and the impeding "fiscal cliff" have many believing the US stock market is not strong enough to break above its three-year trend. Instead many are looking for the trend to continue, which means the market has reached its upper limit.
From Chart of the Day: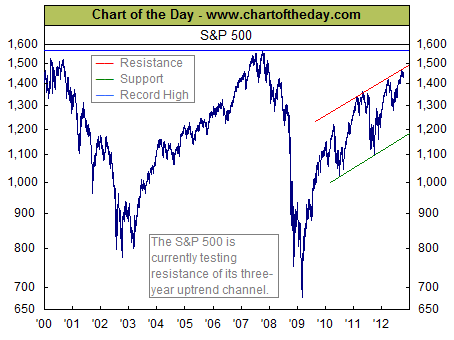 For some perspective on the latest stock market action, today's chart presents the trend of the S&P 500 so far this millennium.
As today's chart illustrates, stock market action since 2000 has been extremely volatile with two massive bear markets each being followed by a strong recovery rally.
It is interesting to note that both of these bear market rallies are somewhat similar in form (i.e. strong first-year rally followed by a more moderate rally in succeeding years). As for the current state of the market, the S&P 500 continues to trade within the confines of its three-year uptrend but is currently testing resistance.