I'm seeing numerous comments about how Obama's reelection has caused the market to go into a tailspin. The truth of the matter is the market was starting to look weak before the election. And now, with the election over, the media has put its focus back on the problems we were all worrying about last Spring - mainly the fiscal cliff and Europe.
This of course, is starting to worry traders and fund managers who want to protect their gains from this year. Unfortunately, especially for the buy and hold crowd, this may mean we are about to enter another down cycle in the markets.
First off, the big concern that market watchers are looking at today is the break of the S&P 500′s 200 moving day average: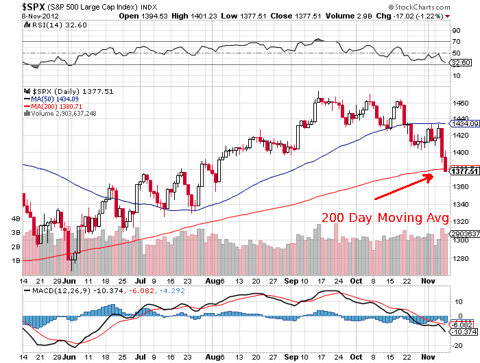 For those who are not too familiar with the 200 day moving average:
From Investopedia
Moving averages are a powerful tool for analyzing the trend in a security. They provide useful support and resistance points and are very easy to use. The most common time frames that are used when creating moving averages are the 200-day, 100-day, 50-day, 20-day and 10-day. The 200-day average is thought to be a good measure of a trading year, a 100-day average of a half a year, a 50-day average of a quarter of a year, a 20-day average of a month and 10-day average of two weeks.

Moving averages help technical traders smooth out some of the noise that is found in day-to-day price movements, giving traders a clearer view of the price trend. So far we have been focused on price movement, through charts and averages. In the next section, we'll look at some other techniques used to confirm price movement and patterns.
In addition, US Treasuries have broken above the 200 day moving average. This indicates that money is being moved into safe haven investments: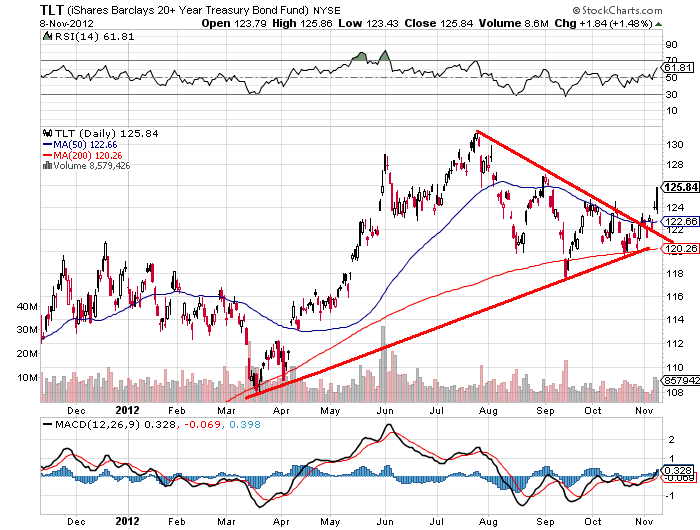 The VIX (aka the "fear gauge") is also showing a breakout - indicating that volatility in the market is rising: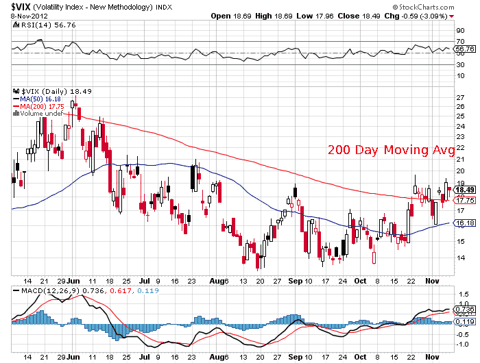 So the million dollar question is: Short term selloff, or will this be a much larger decline?
If we take a look at the long term chart of the VIX, we can see that the downtrend since the last market decline is still in place. If that trend is broken, I think we will see a larger decline.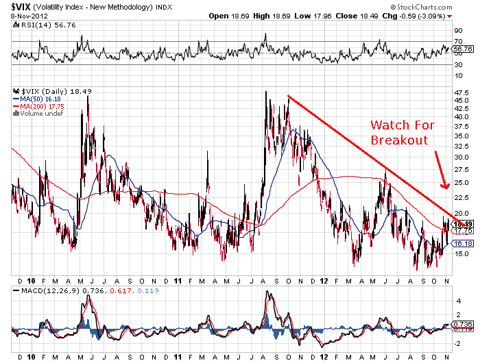 One last comment - notice the VIX levels are still low. This means that investors are not in panic mode yet. If investors start to panic and the VIX jumps towards its highs, the market could quickly erase this years gains.
Be careful and happy trading
-John
PS: If you are interested in how the ARTAIS model is allocated, feel free to email me at "john AT riverbendinvestments.com"