Since late January, the US stock market has been in a decline. While the longer term, positive trend of the market remains intact, we are fast approaching a "line in the sand" moment for market watchers.
The market had been in a strong uptrend since March of last year, but has recently broken that trend. This may simply be due to profit taking as investors look to reallocate their portfolios, or this may be something more severe. While the S&P 500 index is in a very textbook and orderly decline, market watchers will be looking at the 200 day moving average to get a longer term perspective of the market's general direction. Bullish investors like to see a market trade above the 200 day moving average. Violating the moving average is a good indicator that the market trend has changed.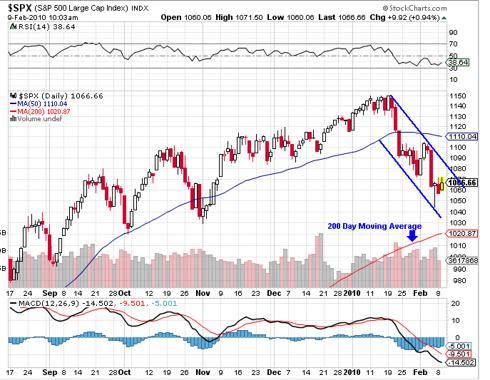 As the market declines to meet up with the current 200 day moving average, traders will be closely watching to see if buyers come back to the market. If buyers don't come back to the market at this level, it is a good indication that the majority of market participants feel that something has fundamentally changed (e.g., greater chance of a double dip recession, higher than expected tax increases, poor corporate earnings, etc.).

This raises the question: What has changed in the US economy? Answer: The comeback of the US dollar. While most politicians like to brag about having a strong dollar policy in place, it really isn't that great during a weak economy. A strong dollar makes US products more expensive overseas. 
Since the market meltdown in 2008, the US dollar has been very weak when compared with its peers, such as the Euro. This has helped stabilize the US economy in two ways. First, our products are cheaper and more competitive overseas. Second,our products are cheaper and more competitive back home. The US economy is largely based on consumers. The more consumers buy US products, the better it is for our economy.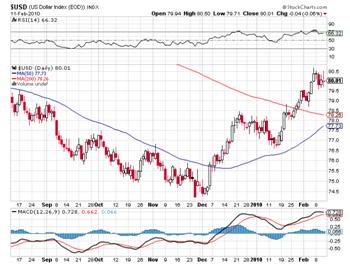 Historically, the US has always been the safest currency in the world. Last year, many countries sold the US dollar and moved their money to the Euro or into Asian currencies. However, the recent news that Greece, a Euro country, may be the next "Iceland" (insolvent) has caused international currency investors to run back to the US dollar – thus causing the US dollar to strengthen.

How is the Rothe Financial Group using our Absolute Return Strategy to take advantage of these market indicators? Right now, the actively managed portion of our portfolio has been moved to cash as we wait to see if the 200 day moving average is violated. If the moving average is violated, we will then begin to add inverse investment positions which provide us a unique opportunity to profit in a declining market. We will continue to follow these trends closely and update our strategy as needed to maximize our clients' profits regardless of market conditions.


Thanks for reading,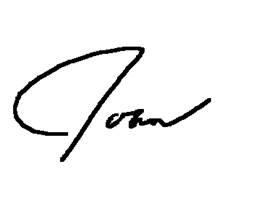 John Rothe
President & Chief Investment Officer
Rothe Financial Group
rothefg.com


 
Disclosure:
No Positions/No Stocks Mentioned