Even with a day left in January, it is time to write about how my portfolio is going after the first month of the year. The month have seen the Dow Jones hit 20 000 points for the first time, the inauguration of Donald Trump as the president of the United States and the first batch of earnings coming in. My portfolio got up by 1.97%, below the 2.60% of the S&P 500 but my portfolio was hurt by the earnings of Starbucks, Praxair and others. This is how my portfolio looks like as of January 30th.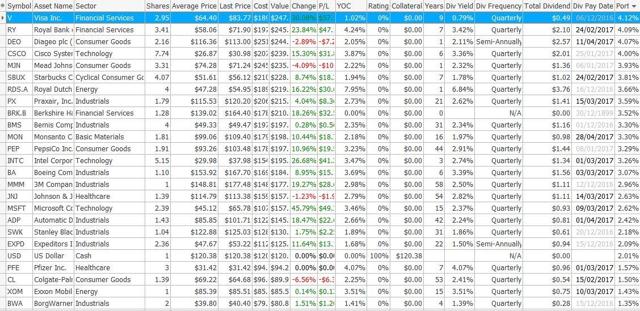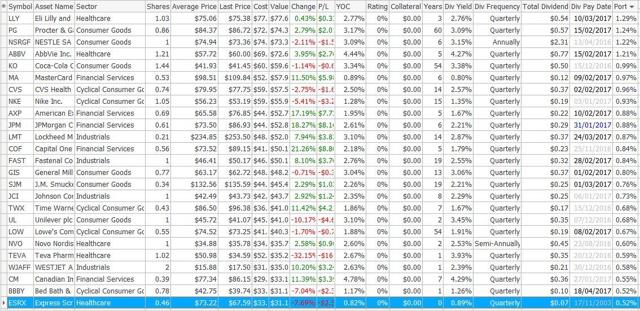 During the last month, I added Mean Johnson Nutriton (NYSE:MJN), Praxair (NYSE:PX), Bemis Corporation (NYSE:BMS), ExxonMobil (NYSE:XOM), BorgWarner (NYSE:BWA), Stanley Black and Decker (NYSE:SWK), Fastenal (NASDAQ:FAST), Johnson Controls International (NYSE:JCI), General Electric (NYSE:GE), HCP Inc (NYSE:HCP), Becton Dickinson and Co (NYSE:BDX), Eaton Corporation (NYSE:ETN) and MTY Food Group (OTC:MTYFF). I believe that all those companies have a good competitive advantage and can't be replicated without a lot of resources. I was pretty surprise also to see than Stanley Black and Decker was pretty recession proof for an industrial company. Many of those companies also increased their dividend for at least 10 years. This is good since I search for company that increase dividends every year.
For some of you, the question mark could be MTY Food. For those who doesn't know, MTY Food is a Quebec-based company that owns restaurant brands and franchise them or put them in shopping malls all across Canada and some in the United States. At least 25 to 50% of all restaurants in malls in Canada is owned by them and they still have a lot of room to grow. They give what could be seen as a little dividend but people should know than a company in Quebec is taxed two times on dividends: first on the earnings they make and second on unused earnings given as a dividend. This discourage Quebec-based companies to give a good dividend and they tend to stick low.
I am pretty happy with how my portfolio is going. It was pretty rocked by the earnings last week but since I look for the next 30 years, it shouldn't be a problem. See you next month!
Disclosure: I am/we are long ABB, ABBV, ABT, ADP, AXP, AZN, BA, BBBY, BDX, BMS, BRK.B, BWA, CC, CL, CM, COF, CSCO, CVS, DEO, ESRX, ETN, EXPD, FAST, GE, GIS, HCP, HYH, INTC, JCI, JNJ, JPM, KMB, KO, LLY, LMT, LOW, MA, MCD, MCK, MFC, MJN, MMM, MON, MRK, MS, MSFT, MTYFF, NKE, NSRGF, NVO, PEP, PFE, PG, PX, RDS.A, RY, SBUX, SJM, SWK, TEVA, TWX, UL, UNH, V, WJAFF, WMT, XOM.