This week, I am looking at one of the biggest consumer goods companies in the world. Born from mergers of the two biggest beer companies in the world, Anheuser-Busch InBev AV (NYSE:BUD) has a portfolio of 500 brands and is the biggest brewer in the world in front of Heineken (OTCQX:HINKF) and Molson Coors (NYSE:TAP). As usual, I will look into what the company does, its 10 year and 2016 full year results, the beer market and the merger with SABMiller completed last October.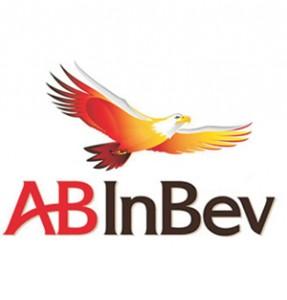 What is Anheuser-Busch InBev?
Who doesn't like to take a beer with some friends to celebrate an achievement or just for a social event? Alcohol and beer exist since a very long time but never we had so much choices into which kind of beer we want to drink. Anheuser-Busch InBev is the biggest beer brewer in the world. Created in 2008 from the merger of Anheuser-Busch and InBev, backed by 3G Capital, the company boosts well-known brands like Budweiser, Bud Light, Stella Artois, Beck's, Corona and Fosters. Its CEO is Carlos Alves De Brito since 2005 and have oversaw the mergers of Anheuser-Busch, Groupo Modelo and now SABMiller. With the financial backing of 3G Capital, the company mostly grew with acquisitions in the last few years in a market with more and more competition from craft beers. To differentiate itself from its rivals, AB InBev is leveraging the power of their brands, including Budweiser seen as the most known and biggest brand in the world with a value of 15 billion US Dollar in 2016 per Interbrand.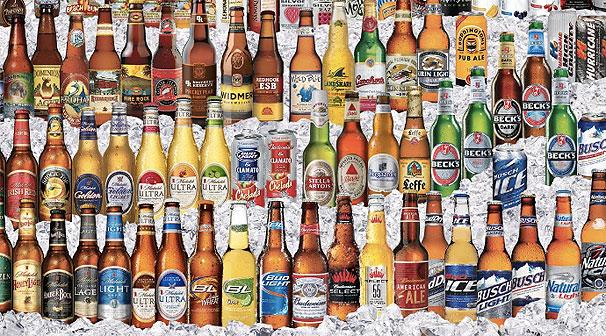 How were their results in FY2016 and their historical performance?
FY2016 results for BUD were impacted by the cost of merger with SABMiller that closed in October of last year. BUD give a comparative basis with 2015 as if SABMiller was already in the company. BUD reported on March 2nd and showed an organic growth of -2% on volumes but of 2.4% in revenues at 45.517 billion USD. The cost of sales decreased by 1.7% with most of merger expenses behind the company. Also, the EPS per share has been of 2.83$ compared to 5.20$ in 2015, most of this comes from the mergers expenses and the dilution of stock because of the merger agreement. The free cash flow of the company was of 5.342 billion $, down from the 9 billion $ in 2015. Overall, it was a tough year for BUD.
On a ten-year basis, this is how the results of the company evolved
Year

2007

2008

2009

2010

2011

2012

2013

2014

2015

2016

Revenues

(in millions)

19735

23507

36758

36297

39046

39758

43195

47063

43604

45517

Net Income

3005

1927

4613

4026

5779

7160

14394

9216

8273

4853

EPS

3.06

1.93

2.90

2.50

3.58

4.40

8.72

5.54

4.96

2.83

Free Cash Flow

3620

3506

7411

7561

9110

10004

9995

9749

9372

5342
Source: Morningstar.com and Anheuser-Busch InBev 2016 Annual Report
As we can see, the revenues of AB InBev increased after each acquisition. The boost in net income in 2013 was because of the sale of the US Operations of Groupo Modulo to Constellation Brands because of anti-trust issues. The free cash flow is constant and should reward its shareholders going forward. As I wrote in my first article on my portfolio, I consider free cash flow as a better pick to analyze the company since it is the cash that can be given to shareowners of the company. Benjamin Graham called this owner's earnings. 3G Capital has the reputation to go in a company and cut any fat they can find and for AB InBev, it gave some results. For the dividend, they kept it at the same level in 2016 with a 3.60 Euros dividend but with the cuts coming into SABMiller acquisition, we can expect it to grow sooner than later.
The return on the stock is very good since 2009 with an 190% increase of 14.25% per year as shown in the chart below. The dividend have gone from 2.50 Euros to 3.60 Euros in 2015 and 2016.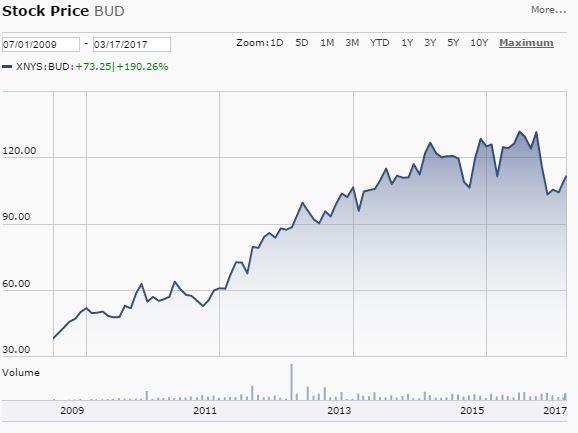 Source: Morningstar.com
The acquisition of SABMiller was completed in October of last year for a price tag of 107 billion $. Anheuser-Busch acquired some good brands but had to sell some brands to appease regulators. The Miller brand was sold to Molson Coors and Asahi Breweries took some others like Peroni, Tyskie and Urquell. With 27% of the beer world market share, it would be very difficult for AB InBev to do another acquisition in the beer side of the business. To continue their growth-by-acquisition model, they would have to look elsewhere in the beverage sector. But first, they must swallow SABMiller and the 100 billion in debt they now have on their balance sheet.
Conclusion
In the end, Anheuser-Busch InBev is one of the widest moat company in the consumer goods sector. With close to one of three beers in the world consumed is brewed by them, it is almost impossible to take down. With a 3.58% dividend yield, it is very attractive to income investors. The debt on the balance sheet is a worry with a debt to equity ratio at 3 but the big margins will help drive that number down. It is a good stock for someone that wants to have a play into the consumer goods and alcohol sector.
Disclosure: I/we have no positions in any stocks mentioned, but may initiate a long position in BUD over the next 72 hours.