Today's 1.38% decline in the S&P 500 has left the index sitting atop its 50-day exponential moving average support. In addition, the RSI (Relative Strength Index) of the S&P 500 has fallen to levels that, during this uptrend, have contained corrections. See the chart below: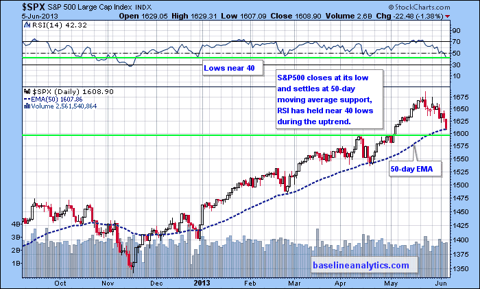 What does this mean? Should equities see a bid and a potential bounce at this juncture, a follow-through and potential continuation of the uptrend may ensue. If, on the other hand, the S&P 500 closes below 1600 and RSI dips further below the 40 level, a more pronounced correction may ensue. That correction may resemble the setback experienced in November 2012.
So watch the balance of the week's action, as we will do at Baseline Analytics and our trend-following indicators. Should the market begin to firm, we will be looking to add to long positions. For the time being, we will remain cautious with protective stops and step aside until the market figures out what it wants to do.
- Baseline Analytics