An indicator supporting the bullish case in the ratio of growth stocks vs. value stocks. We measure this ratio by using the Russell 2000 Growth Index (RUO) divided by the Russell 2000 Value index (RUJ). In the chart below, we show the ratio with its 50-day moving average to capture the overall trend (blue line).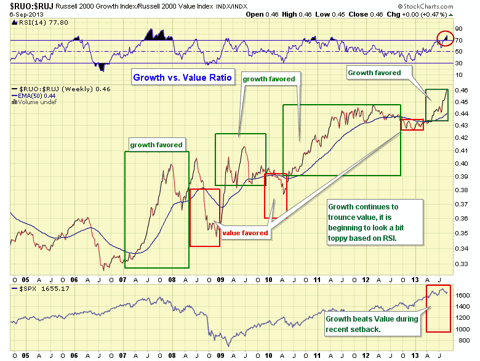 Note that in recent setbacks in the S&P 500 (bottom of chart); value would tend to outperform growth in a bid for defensiveness. As you can see with the recent market consolidation, however, growth continues to outperform value. Perhaps we see a "brave new world" emerging in this relationship.
Our suspicion for this rather unique behavior is based on the sector make-up of the Growth vs. Value indices. The Russell 2000 Value Index is more heavily-weighted to interest-sensitive stocks such as utilities and financial services as compared to the Russell 2000 Growth Index.
As long as Growth outperforms Value, we believe that there is underlying strength in the equity markets. We also believe strongly that rising interest rates can be bullish for equities as they suggest underlying strength in the economy. Managed rate increases with a tempered inflationary outlook can continue to support equities as the asset class of choice, as valuations remain reasonable and occasional political and macro-economic fears introduce the potential for a buying opportunity.
- Bob Palmerton