By observing the chart below, you can tell when Cisco Systems reports its earnings. Euphoria and fear following earnings reports and the company conference call has driven gaps up and down in Cisco's stock price. Cisco Systems is due to report earnings again on February 12th. See the chart below: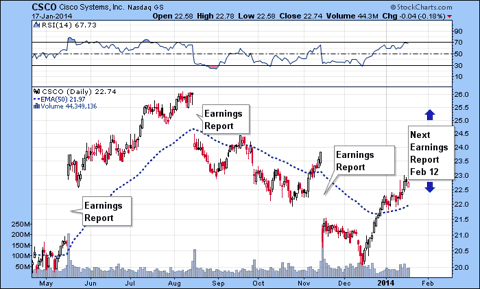 The compelling fact regarding Cisco is its cheap valuation. Cisco Systems holds over $9 in cash per share. Reducinng Friday's closing price of $22.74 by the cash per share, results in a price of $13.74. At its trailing full year earnings of $1.84, Cisco's PE ratio is 7.5, or less than half of the S&P 500's PE multiple. At next year's 2.08 EPS estimate, that is a PE of 6.6.
Now there is reason why value stocks can remain value stocks for a long time. Shifting industry dynamics (think Sun Microsystems, Microsoft) can catch a large company off-guard, unable to or unaware of the need to make a change. Cisco Systems traditionally focused on network hardware, while startups shifted the network solution to software (not dependent on legacy hardware as Cisco was dependent upon). However, as Barron's recently noted, Cisco's "Application Centric Infrastructure consists of a software-based controller that works with a new line of Cisco switches. Cisco says it will offer the agility and programmability that software-defined networks promise, with reduced complexity."
Being the first (or the early technology leader) is not necessarily the best for a technology company. With Cisco's successful track record, excellent management, depth of talent, and cash, the odds are in favor of Cisco Systems ratcheting up its revenue growth in the coming years as it introduces its software-based solution.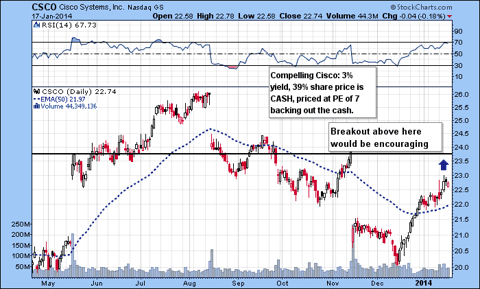 Cisco Systems also sports a 3.0% dividend yield (the next ex-dividend date will be early April). A breakout above the $23.75-$24.0 area would suggest a potential trend reversal for Cisco (26 and higher would break its 2010 peak, and 32 would take Cisco above its 2008 peak).
As the chart below shows, Cisco is a long way from returning to its 2000 peak, and has quite a way to catch-up with the Nasdaq (the blue line), which is closing in on historic high.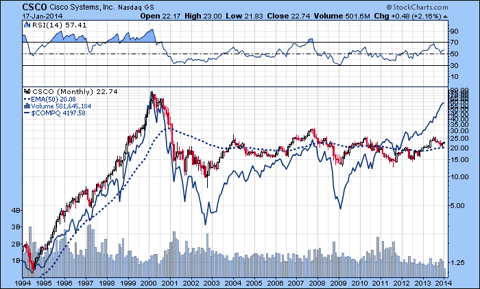 Learn about StockStash, our stock picks based on a blend of technical and fundamental criteria, at Baseline Analytics.
Disclosure: I have no positions in any stocks mentioned, but may initiate a long position in CSCO, over the next 72 hours.