A weekly view of the 30-year Treasury Bond price shows an interesting technical juncture. Note the chart below, showing $USB vs. various support and resistance zones printed over the last three years.
Initial resistance was broken in July, 2011, which led to a rally in the 30-year Treasury Bond to peak a year later in July, 2012 (after testing support in April 2012). Fast-forward to June 2013, when $USB fell below support (prior resistance) and bottomed in December of 2013. Prior support becomes resistance, as noted on the chart, at the 137.50 level, where $USB's rise is being deflected today.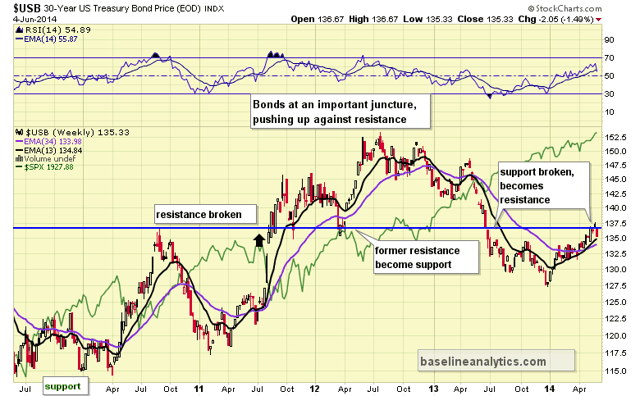 What does this mean? The signals in this chart suggest a bond market struggling with the prospects of economic growth and higher interest rates. It may take time to work itself out as to the clear longer-term direction. But recent strength in Financials (i.e. XLF) relative to the S&P 500, suggests a more bullish tone to interest rates (and bearish toward bonds) and may serve as a clue to how this will all shake out.
Longer-term, we would expect financials, as well as economically-sensitive home builders (also seeing recent strength) to push upward as $USB heads back toward its early 2011 support in the 120 area. Some selective buying of financial, home builders and other industrials may be in order, in addition to avoiding any aggressive buildup in bond positions.
Visit Baseline Analytics for more research and our TrendFlex family of market trend signals.