On Friday, I sold a portion of my long positions in stocks. Not too much, mind you. All I did was to make the market pay me for my efforts in successfully identifying opportunities to profit from the market uptrend.
When the market hands you profits, take them. At least take some of them.
Complacency is a condition that evolves typically over a timeline of several months. It tends to manifest itself in repeated, consecutive market highs or, minimally, in a multitude of up days sprinkled with an occasional, small pullback. When your friends start discussing stocks at casual gatherings, when margin levels start to build, when the DOW hitting new highs populates the front page of your local newspaper, complacency is starting to set in.
Earlier this week, as the Baseline Analytics TrendFlex Classic signal and the TrendFlex Score suggested a high risk to a trend change shift to "down," I added two S&P 500 e-Mini short contracts to hedge my portfolio, which was slightly on margin (invested long 103%, albeit in a blend of stocks, bonds, commodities).
I closed my e-Mini future positions with a loss. When I sold some long stock positions on Friday, I added another e-Mini short contract (also under water). I will set a stop loss on that short position. Or I may add another short contract early next week. I am invested 100% long in my trading accounts, and a net 68% long in a variety of mutual funds, including retirement accounts. Handing some cash back to the market in a losing short position is OK. I know that a market rout to the downside will not be protected effectively with this modest short position. But with the strength of this bull market, I don't want to heavily bet against the rising tide.
Today I also reviewed all of my long trading positions, and I started to set stops. The stops are set at technical base points, such as the 50-day moving average, or levels that secure some profit or minimized loss. As the market moves higher, I will raise those stops. Each day, another $0.10 or $0.30 raise in a stop will give me the confidence that I am managing my portfolio responsibly, and not succumbing to complacency and greed. Will I add any new long positions? Perhaps I will establish partial positions in stocks representing reasonable value, that pay dividends, or that have lagged the indices but have reason to recover based on company fundamentals.
Analyst consensus is forming that the S&P 500 has another 5% to 10% upside in 2014 (including a possible correction before then, of course). Many of us have sold in the past (i.e. stops triggered in a correction), only to miss a portion of the eventual recovery and new highs. But I would rather jump into a bull trend in the middle, rather than try to identify and participate at the bottom. So even if most of my positions are closed out in a market rout, I will be building my buy list and look to participate should the market recover and suggest another bullish run.
Would I ever go fully short in a market correction? Probably not. My preference would be to keep a modest (50%?) position in stocks in my trading account, the balance in cash, and to short the market partially only if any short-term bounces are technically considered as such. I will start building a buy list.
Major bull runs correlate positively with key economic variables such as growth in corporate profits, increasing employment, manufacturing output, stronger consumer confidence and spending, and housing starts. The market is a leading indicator, suggesting that improvements eventually materializing in these indicators presaged the stock market's rise from the ashes of 2009. As long as the economic data remain supportive of the market, I will be long in stocks.
So what prompted me to lighten up on my long positions? I am not bearish, I just want to hedge my long exposure.
Below is a chart of the Baseline Analytics TrendFlex Score. The TrendFlex Score is a measure comprising 12 indicators that are weighted weekly. The indicators cover macro-economic data, stock market breadth and momentum, market sentiment, bond risk premiums and technical support and resistance levels in the market averages. The TrendFlex Score identifies market extremes, serving as a warning sign of a potential shift in the market trend.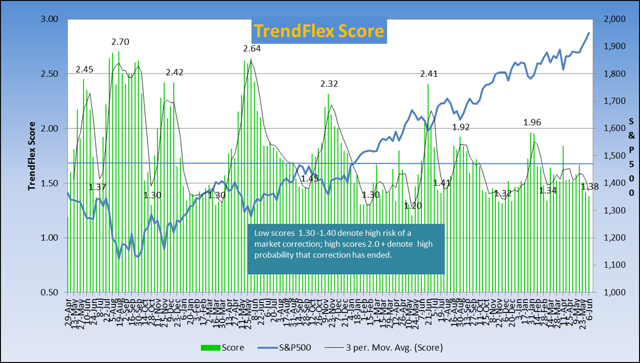 The TrendFlex Score ranges between 1,0 (extreme bullishness) to 3.0 (extreme bearishness). When the TrendFlex Score descends to the 1.30 to 1.40 area, chances are ripe for a pullback in the market. The dates in the chart start in April, 2011, and end as of this Friday. Note extreme lows in May 2013 (score of 1.20) and November 2013 (score of 1.32), which preceded short-term market corrections. Friday, the TrendFlex Score settled at 1.38, near its historic lows.
Conversely, high scores (around 2.0 and higher) tend to suggest that a market correction is about to end. Note extreme scores in May 2012 (score of 2.64) and January 31, 2014 (score of 1.96), among other extreme highs, that preceded market rallies.
I use the TrendFlex Score in my personal money management as well as managing client funds at The Absolute Return. For example, as the TrendFlex Score descends toward extreme lows, I look for opportunities to go long in sector ETF's with low correlation to stocks (such as bonds at most times), I will set stops, sell calls on long positions (not much money in that business today with a low VIX) and take some money off the table by pruning back long positions.
As a long-term investor (but occasional trader), I will use the TrendFlex Score to monitor risk in my portfolio, and to calibrate my weightings across stocks, ETF's, bonds, and cash, accordingly. I would like to remain ahead of the curve and not succumb to a sudden market meltdown by remaining complacent as the averages reach new highs.
Ignoring vigilant portfolio management can have disastrous consequences. Witness the years 2000 and 2008. But admittedly, being over-zealous in adjusting portfolio allocations can likewise cause under-performance as well as accumulating transaction costs. Those long-term investors fortunate (and prescient) enough to have built long positions in 2009 and 2010, and simply ignored their long holdings, have done quite well.
At the end of the day, however, maintaining a long-term perspective supported by positive macro-economic trends is a suitable recipe for successful investing.
Click here for a video overview of the TrendFlex Score. Click on the following links forProduct and Subscription details.