USGT is an illegal spam pump.
Let's take a look at how USGT was set up as an insider enrichment plan before we get to the promoters pumping this junk.
USA Graphite started as PTM Publications incorporated.
They filed a SB-2 to go public on April 27, 2006. Michael Kessler was the attorney helping with the SB-2 filing (see below)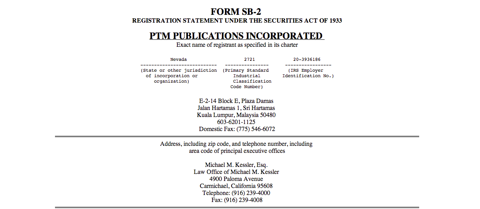 (
Michael Kessler is very familiar. He was involved with another company that used boiler room tactics to bring in suckers so insiders can sell their shares to suckers. The company was IDNG.
IDNG went public as Oliver Creek Resources, INC by filing a SB-2 on Mar 7, 2006 .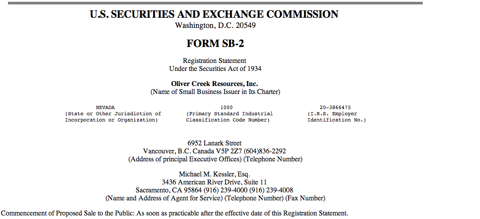 I got multiple phone calls from someone trying to sell me on IDNG during the summer. Let's take a look at a chart of IDNG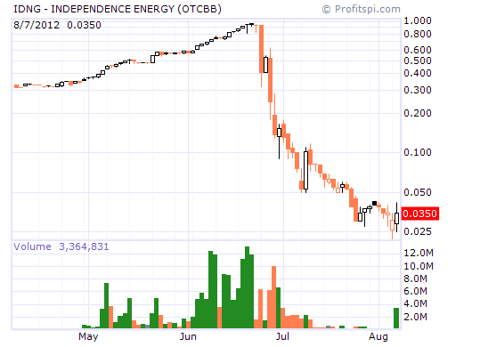 Now lets get back to USGT.
1,000,000 shares of PTM Publications were in the officers hands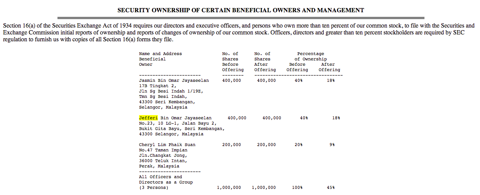 1,200,000 shares were sold for .05/per share to unknown group of shareholders.

The share structured did not change for the next 4 years.
From the 8-k filed Dec 15, 2009
On October 27, 2009 all the officers of PTM Publications Incorporated resigned. Patrick Debolis was appointed new President, CEO, Principal Executive Officer, Treasurer, CFO, Principal Accounting Officer, Secretary, Treasurer and as Director.
May 19, 2010 Patrick filed for a 22:1 forward split
This left
22,000,000 restricted shares in the officers hands
26,400,000 free trading shares in the seed shareholders hands.
July 15, 2010 PTM Publications Incorporated changed its name to "Magnium Oil Inc, by way of merger.

Then April 17, 2012 changed the name of the Company to "USA Graphite Inc.", by way of merger.

Another forward split.
This time a 3.5:1 forward split.
At this point.......
Patrick owned 77,000,000 restricted shares( summer of 2011 he purchased rest of officers shares for $5,000)
92,400,000 free trading shares in the seed holders hands.
USGT was clearly put together for 1 reason, to enrich the insiders.
Now the puppet Patrick DeBlois who did his job stepped aside, he resigned on November 8, 2012. Wayne Yamamoto took over.
After all these events it was pretty obvious that a penny stock pump was just around the corner. Why do I say that? It is because the insiders can't sell their free trading shares if no one is buying. They always end up paying someone to pump their stock with bogus and overhyped propaganda. Essentially saying anything they can to get you buy stock so the insiders can dump on you.
Now here comes the PUMP! Some insider paid an illegal spam group to promote USGT
First emails starting hitting December 4 2012 at night as can be seen here
An example of the content of the emails here
Here is a picture of the most important part of the emails
800k compensation. However, that is meaningless coming from law breaking spam pumpers. Can't trust them, not even their disclaimers.
This group has illegally pumped other stocks in the past like BRND, IDOI, MSTG
Take a look at how those stocks faired for investors.
BRND
IDOI (in July/Aug it was pumped)
MSTG( spam pumpers first pump)
One thing is for sure that the spam pump is working and bringing in volume for the insiders to sell too.
92,400,000 free trading shares in the seed holders hands.
USGT closed friday at .67
at these level these shares are worth $61,908,000
Sweet deal for the insiders considering they purchased the shares for only $60,000
Please do not be one of the suckers that make the insiders rich.
To end this report I want to make sure you follow George Sharp on twitter . He is the one suing BRND,IDOI,MSTG and EMPM read here
Private citizen, George Sharp, has named Premier Brands, Inc. (OTCBB:BRND) ("PREMIER") as an additional defendant in an ongoing civil action for violations of California Business and Professions Codes 17529.5 (Anti-Spam) and the California Legal Remedies Act. The complaint had already identified IDO Security, Inc., (OTCBB:IDOI) ("IDOI"), Empire Post Media, Inc (OTCBB:EMPM) ("EMPIRE") and Mustang Alliances, Inc. (OTCBB:MSTG) as defendants, as well as various officers and shareholders of those companies and others involved in a scheme allegedly to disseminate spam emails in order to artificially create a marketplace for the stocks of those companies at artificially high prices. The Complaint was filed by George Sharp in the San Diego County Division of California Superior Court (Case No. 37-2012-00101057-CU-NP-CTL) on July 23, 2012.
He will most likely be adding USGT to the lawsuit very soon. When that is announced, it will start the inevitable dump process. Becareful and don't get caught in that, steer clear!
NEVER INVEST IN A PUMP AND DUMP
Disclosure: I am short OTC:USGT.
Additional disclosure: I am short only 1,002 shares of USGT and will be looking to add if I can find the shares to borrow.