Pop goes the biotech bubble!
I initially wrote this article last summer but never published it. Well, once the IBB had started to pop, it seemed pointless. Now with today's rally there may be a good entry point into BIS (double short IBB).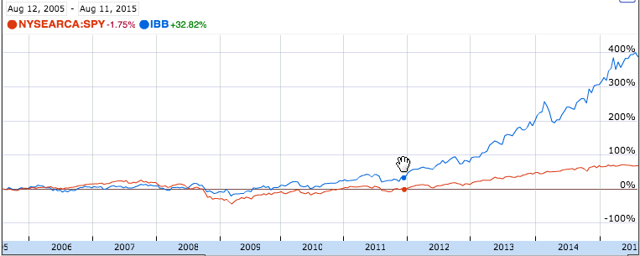 What's been driving growth in the biotech world?
Cheap money paying for losing businesses is drying up as interest rates rise.
Healthcare initiatives in government with insurance have created a put for these drug companies.
With grey accounting practices related to subsidized co-pays and high cost subscription drugs, pharmaceutical companies are bilking the insurance companies for money. The insurance companies are fine to pass the buck to the consumer. We all lose.
Recently with troubles of VRX, the antics of Martin Skreli and tweets by Hillary Clinton have highlighted troubles in the IBB and the likelihood that this prop will soon be kicked out from underneath.
My position since last summer was to own BIS. Riding such a beast is difficult, and I sold recently at above $40, and watched it continue past 50.
Here's the fundamentals on the IBB:
| | |
| --- | --- |
| totals |   |
| market value | $5,839,253,334 |
| total earnings | $84,634,425.72 |
| total shares | 136,573,843 |
| EPS | $0.62 |
| P/E | 68.99383182 |
| Earnings contribution of non top 10 names | -101.60% |
| Top 10 names % | 200.79% |
The bottom 2 cells are interesting. There are almost 200 names in the IBB and the top 10 make up 200% of the earnings... the rest simply lose money! And large amounts. Small biotech is essentially lotto tickets for the big companies but as profits begin to shrink at the top there will be no money for the companies at the bottom.
If you're nervous with a straight short, a good position would be to go long the top 10 earners in the IBB and short the rest.
68 P/E is far far from where this index should be and is heading.
Last summer this number was over 100 but now it has deflated a bit.
Supporting Documents
Disclosure: I/we have no positions in any stocks mentioned, but may initiate a long position in BIS over the next 72 hours.