As frequent readers of our blog are well aware, the RUT (Russell 2000 index) is one of our favorite vehicles for iron condor trading and serves as the cornerstone of our premium subscription service. It offers tight bid/ask spreads, good liquidity and income tax advantages over IWM, the ETF version of the RUT. And most of the time, the volatility premium provides us with favorable credits.
When markets trend with the kind of velocity that we've witnessed in the past month, it presents some challenges to sellers of options, as implied volatility drops to record lows and the implied volatility premium (the difference between the implied and realized volatility) evaporates.
But markets aren't static. Often as soon as we begin to get accustomed to a particular market condition, those conditions change. In order to put the current RUT behavior in perspective, we looked back at the last time we saw record low volatility, a strong trending market and an oversold condition (as measured by the RSI 14). The most recent example of this condition in the RUT occurred around this time last year.
Starting in mid-December of 2011, the RUT bottomed at 707 and moved up at a 45 degree angle, arriving at 833 at the beginning of February amid overbought conditions and a piercing move through the top Bollinger band. But the market didn't pullback - it simply digested the move over a period of 3 months before correcting in early May.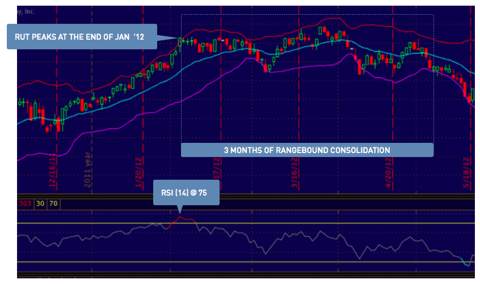 While some traders might have waited to see the 3-5% pullback in late February to initiate a trade, watching the volatility trends would have provided an earlier and more profitable entry. As the market digested the move in early February, implied volatility moved to the top of its 30 day range - a striking difference from where RUT 30 day implied volatility current resides (in the bottom 5%).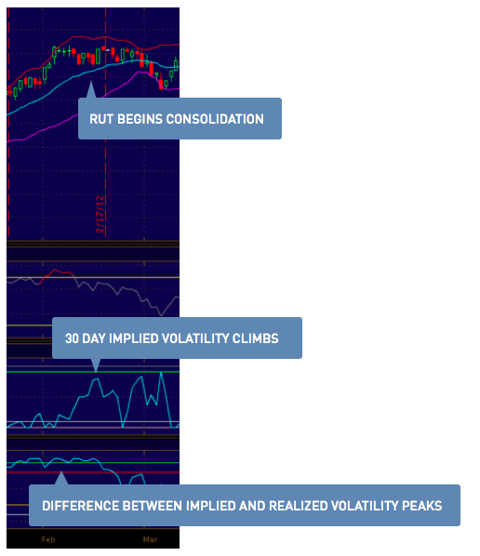 The volatility premium also moved into the top of its 30 day range, demonstrating that market demand for downside protection, not simply a pullback in the underlying, can drive significant increases in implied volatility relative to historical volatility. The RUT worked off its overbought condition through consolidation over time, not a dramatic pullback.
The current market behaviors and pacing look very similar to early 2012. History may not repeat but we think there's a good chance for some rhyming in our near future.