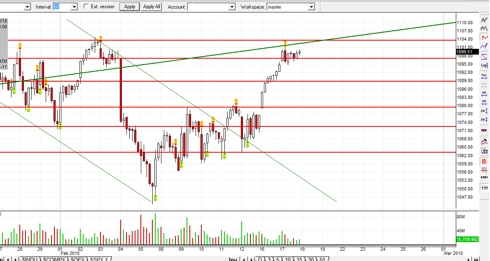 Greetings,   
       The S&P 500 ran up against strong resistance today within the 1098-1005 zone.  We have a sell signal on the hourly chart today on our algorithm.  Even though the daily and weekly are currently pointing up this resistance zone may be the area that repels momentum.         
        Trendchanges begin in the smaller timeframes and fractally expand into longer timeframes, so it's always important to keep all timeframes in mind when encountering support and resistance lines in order to make the most profitable trades possible.
       Our Subscription service takes all timeframes into account along with support and resistance lines in order to give you the highest percentage swing trades.   Just take our stock picks. Subscribe,  place your trailing stops and come along for the ride.
Regards and good luck from all of us at
Strategydeskcode.com
Disclosure:
short GOOG, short MDT, short F