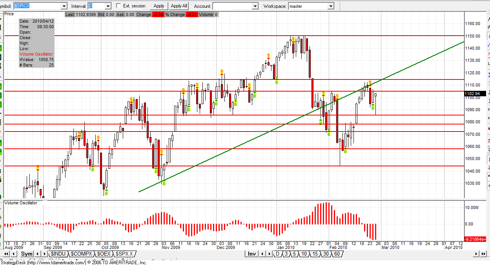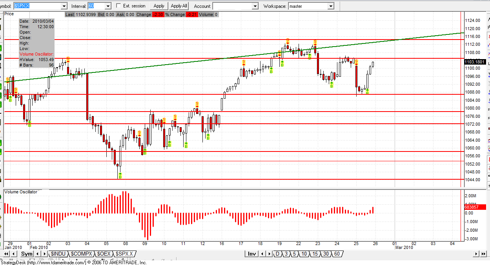 Good Evening!
       The S&P500 stopped right at the top of the 1087 support zone today, if you look at the hourly intraday chart above you can see the near vertical spike that occurred at 1:30 est when all of the smart money buy programs kicked in at that line.The range bound sideways trading may go on similar to how it happened throughout November and december.   
        This is a daytrader's heaven, if the market continues to have snapback rallies, if it breaks upwards of 1105 to test the 1112-1115 area, be nimble, it's a huge area of congestion.  
        The weekly buy/long signal generated last week is still intact.   Volume is still anemic but ticked up today.
        Continue taking advantage of the 1083/1087 - 1112/1115 trading range until the market breaks out of it.
Regards and good luck!
AW
www.strategydeskcode.com
Disclosure:
Took partial profits at 1087