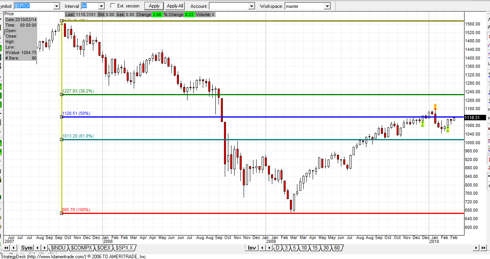 Good evening!
      Above i have put up the weekly chart from the October 2007 high to the March 2009 low.  Today, the S&P500 once again reached the very important 50% level. On such a large degree of timeframe this level could be extremely important in deciding the direction of the larger trend.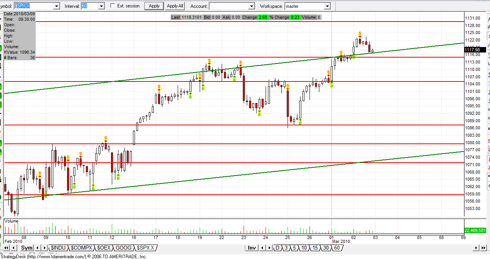 The Fractal Algorithm is still giving buy signals in weekly and daily timeframes. 
This is an intraday hourly chart above. The market gapped above another important line of resistance, stopping us out of short positions above a line that light futures volume had taken the shortcut bridge across last night.  It will be interesting to see how the large 50% retracement line plays out over the next few days.  But we shall wait for confirmation of a sell signal on the daily charts before attempting to short again.
These examples of trading with resistance/support lines versus using the fractal algorithm shows how well the algorithm works.  If we listened to our signals we would have stayed with the long trades until confirmation to sell with a generated algorithmic sell signal presented itself.
The Fractal algorithm can be used in weekly, daily, and intraday timeframes, ideal for swing and daytrading.  
Cheers and Good luck trading!
A.W.
www.strategydeskcode.com
Disclosure:
no positions
Disclosure:
no positions