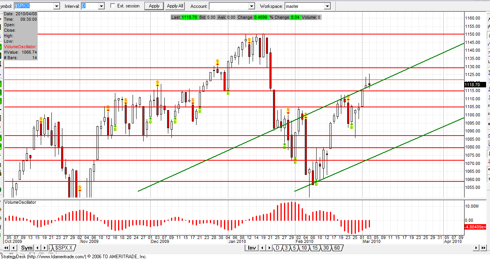 Good Evening!
          The S&P500 remained above diagonal trendline support today. But had a difficult time staying above 1122, which is right at the larger 50% retracement mark that was cited at yesterday's post.  It rose in the beginning of the session on U.S. Dollar weakness but failed to hold onto its highs.  The evening star/tweezers type candlestick pattern of the past three days was complimented by a near doji today with the red candle body beneath the midline of the shadows, overall the daily candle patterns of the past three days represent a big struggle between the bears and the bulls.   A close below 1117 would have been beneath the diagonal trendline we are monitoring, and would have come extremely close to giving the algorithm a sell signal today on the daily charts.           
          Important to note is that the Dollar index has fallen to crucial support at $80
         The S&P500 futures index is currently only about 1.5 pts below the S&P500 cash index.  The diagonal trendline tomorrow lines up best to between 1118-1119, overnight if the S&P500 futures fall to beneath 1116.50, i'm estimating the cash index to open tomorrow below the diagonal trendline, and for our algorithm to give us a daily sell signal.
          Please Join and follow this instablog for continued updates! 
Regards and Good luck trading!
A.W.
www.strategydeskcode.com
Disclosure:
no positions