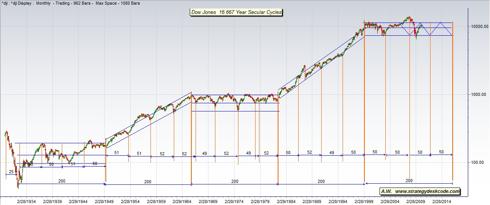 Good Evening,
             This is a special post for those out there who were ever curious about secular bull and bear trends.   I've manually isolated cycles in the log chart above to show where the market may currently be.   Since 1930 the Dow Jones has consistently had a pattern of 200 month cycles, or 16.6667 years in duration.  The horizontal 200 month cycles represent secular bear cycles, and the diagonal uptrending zones represent 200 month secular bull cycles.  
             As you can see above from the previous sequence of patterned events, we can be led to believe that we are in the 3rd quarter of a secular bear market.   The 16.6667 year cycles can further be divided into 50 month/4.3 year cycles and 25 month/2.15 year cycles. 
             By looking at the chart above you can see how easily visible the 50 month cycle was trough to trough from 1949-1982, further the 25 month cycles would go from trough to peak or peak to trough.
            The keen eye will notice that a peak was supposed to occur in 2005, but the market extended itself higher into 2007 with another 25 month cycle.  And as physical mechanisims of homeostasis exist, the market corrected itself downwards hard and fast in 2008-2009 to make up for this cyclical extension.
             Well we are currently at another cyclical milestone in the middle of the third quarter of this secular bear market where a 25 month cycle top should be aligning.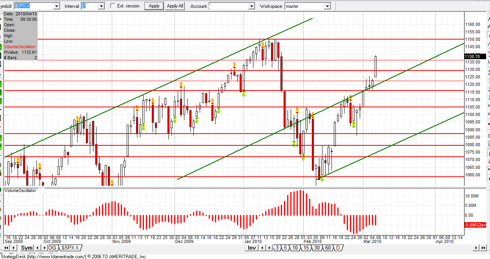 Above,  the push up on Friday closed above a few resistance lines that we were watching, it was a very bullish move but the volume was still below par to have substantial meaning.     
      We may see congestion and consolidation during this week, the 1150 area has been a strong area of resistance, most of the indicators are in overbought territory, the Dollar index is supported at $80.00, and the VIX is at oversold at $17.42 
       Our Fractal momentum algorithm is still giving us a buy signal for the time being and we will keep you notified of any changes.
Regards and Good luck trading!
A.W.
www.strategydeskcode.com
Disclosure:
"no positions"