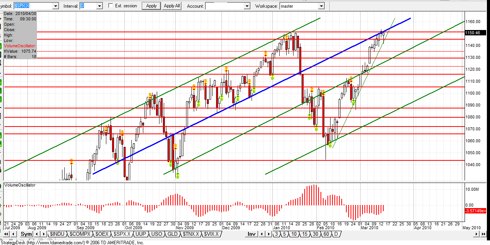 Good Evening!
       Today was a bull bear battle with the S&P500 rallying back into the close at resistance once again.   Oil took a spill, the greenback managed to keep half it's gains today as gold and equities moved in step inverse to the dollar's end of day weakness to rally back their losses.   The VIX had a small gap up today but fell back down with the equity eod rally, yet, is holding it's ground closing higher than it did last Friday.   Volume was light but on average is expected to pick up. 
       The S&P500 is pinched between multiple trendlines with a break expected tomorrow or within the next two days.  
       The algorithm was a hair away from generating a sell signal today.
Cheers and Good luck trading!
A.W
strategydeskcode.com

"Inside every cynical person, there is a dissapointed idealist"
- George Carlin
Disclosure:
no positions