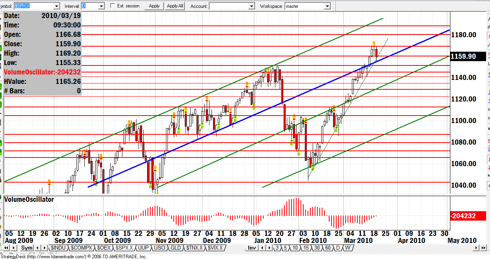 Good Evening!
         The S&P sold off today with volume in the SPY reaching a little over 226 million, the highest in the past 16 trading days.  It tagged and bounced off the blue regression line to mark the low of the day.  For the selling to continue, it would need to close under that line, which for Monday, would be a close under 1155.8 
         The purpose of using an algorithm is to attempt to use a technical strategy where a person can opt to forget about listening to the daily rantings of the media most of the time. The media's sole purpose is to get ratings or push the agenda of the smart money to have the grandpops and moms of the world to live in either total complacency or utter fear. 
          Whatever is happening in company fundamentals, in Greece, in healthcare, treasuries, in municipal bonds, real estate, or in Area 51 can all be seen in the price action, trendlines and volume on the charts. Sometimes it can be seen even before the media makes the news available.  The clues are there, we just have to find them.
Regards and Good luck trading!
A.W.
strategydeskcode.com
"Turn off CNBC!"
-Loantrader          
Disclosure:
Short SPX