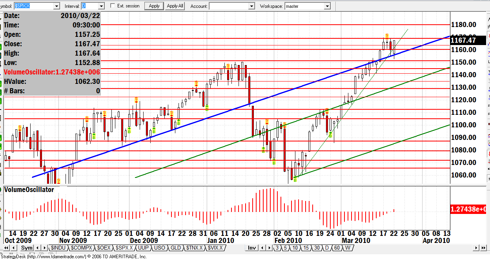 Good Evening!
           The SPX opened right on top of the current blue regression trendline above and stabbed through it but failed to have two consecutive closes underneath it to confirm the move even when looking at the 10 minute intraday chart.  The light volume lifted price higher today.  
            It's important to note that the weekly chart buy signal is still intact, as the daily chart sell signal is still intact.  When this happens there can be significant sideways tight range trading as the cycles counteract each other.  The extremely overbought condition of the daily chart leads us to believe that it will be the dominating force of these two momentum cycles over the next two weeks and that a bigger correction should occur soon, it may start tomorrow.
            The VIX broke up over 17 today and then settled right underneath it, but more importantly it closed above a trendline on the daily charts that began on February 2, 2010 showing us that a base may be building where a countertrend rally in volatility might soon begin.
Best Regards,
A.W.
Disclosure:
Short SPX