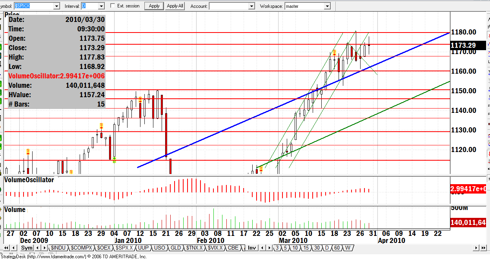 Good Evening! 
             The S&P 500 failed to close above 1174 again.  The clock is ticking as the convergence of surrounding trendlines are pinching price into an acute angle of resistance. 
There is a full moon tonight and folklore of buying the full moon and selling  the new moon have been rampant amongst the trading community in recent months.  Whether you believe in astronomy/astrology or not, the statistics of returns by buying on full moons over the past 6 months are staggering.  I urge you to look up an ephemeris of the lunar synodic cycle and correlate it with peaks and troughs of the S&P the past year.
There's still a sell signal on the S&P 500 for the algorithm, we're short from 1166 and have a buystop at a close above 1181, we will take partial profits at 1116 .
Best Regards,
A.W.
www.strategydeskcode.com
Disclosure:
short spx