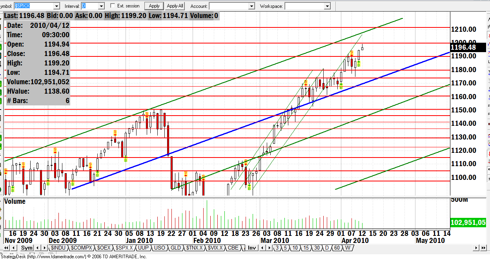 Good Evening,
                  In the chart above, the SPX just barely touched our 1200 line today as the VIX broke the key support we are tracking at 16.00.  Although the algorithm gave us a buy signal the other day, we were attempting to forecast based on support and resistance and will stop out with a close above 1200.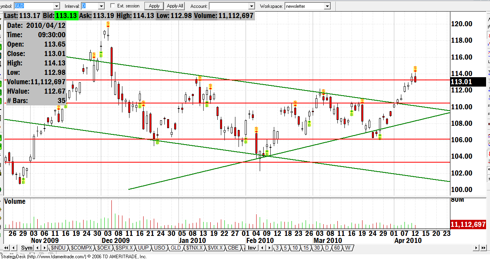 On the chart for GLD above, the precious metal broke out as we suspected to our target of 113 as cited in a previous post, We're getting a sell signal now and would expect a retracement from here.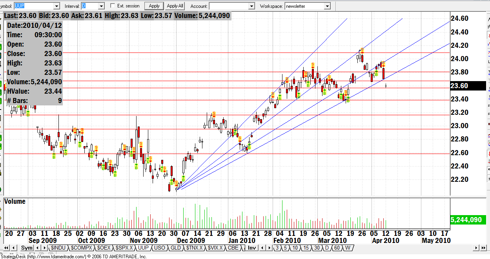 We are using the UUP chart above to look the at USD movement, it gapped down below a key diagonal support line to close above a minor horizontal line.  For now we still have a sell signal on the daily charts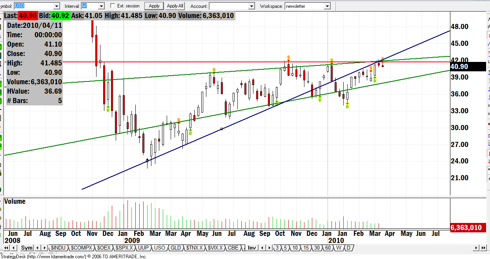 Using the etf USO to track oil, we can see above on the weekly chart that it has encountered strong resistance on three different lines, it may continue this retracement to about the the 39 level.
Please visit
www.strategydeskcode.com
for exciting offers on our products and weekly subscription newsletter. View an sample of our actual newsletter realeased today here
http://www.strategydeskcode.com/media/weekly%20sample.pdf
Best Regards,
A.W.
Disclosure:
"short SPX from 1190"