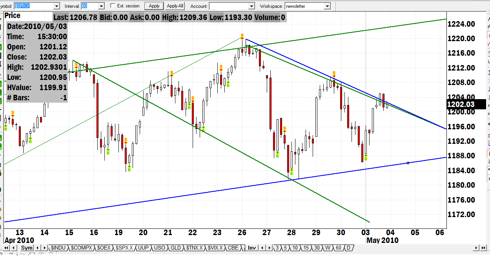 Good Evening!
             The channel speculated in the previous post seems to have panned out close to how we had forecasted it.    Today it is necessary to magnify from the daily into the intraday charts to attempt to see how the SPX price closed into the top of the channel because it ran so close to it.
             If we look at the hourly chart above, we can see the primary trendline top of the channel defined as using the highest closes ( top of the white candle bodies) and the secondary trendline top of the channel defined as using the highest highs ( tops of the candle wicks).   Today's close ended up below both of these primary and secondary lines hinting that the downtrend channel is still intact for the time being.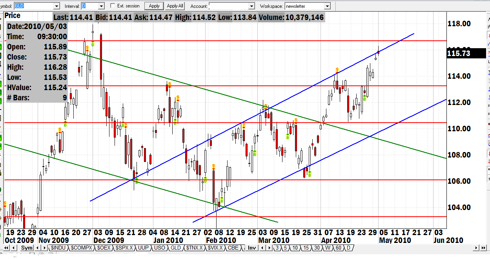 GLD above rose to significant resistance at the top of it's uptrending channel.  The risk seems to the upside at the moment as every attempt to cross above that line over the past 3 months have failed.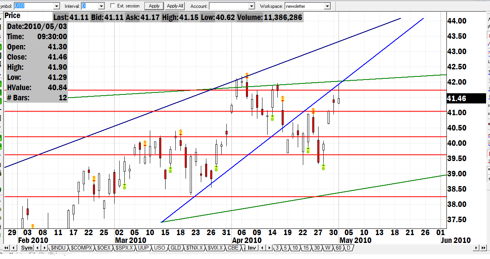 USO in the chart above seems in a similar position to gold as it is also met a significant diagonal line from it's past which is now acting as resistance.
With The SPX, GLD and USO at resistance, it would seem safer to be in cash at the moment if you're a short term trader.   If you decide to go long, perhaps wait for the resistance lines to be broken and closed above, using tight stops.
Best Regards and good luck trading!!!
A.W.
www.strategydeskcode.com
Disclosure:
'no positions'