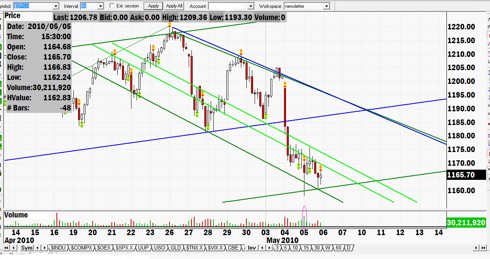 Good Morning!

            The S&P500 dropped nicely from the top channel line as we was predicted in the previous post on May 3rd and has consolidated at major support at the bottom of the the channel the past few days, with a big volume spike on the hourly chart on May 5 that may be institutional accumulation.  It would make sense technically for an upward retracement here to retest the top of the downtrend channel.
            
            Exciting news!  Because of growing interest and requests we are offering a new monthly subscription service sending Intraweekly updated market charts on the S&P500, GLD, USO and the UUP on Mondays,Wednesdays and Friday mornings to keep you on top of the action !   Check out our new service at www.strategydeskcode.com 
            

Best Regards and Good luck trading!
A.W.
Disclosure:
Long SPX