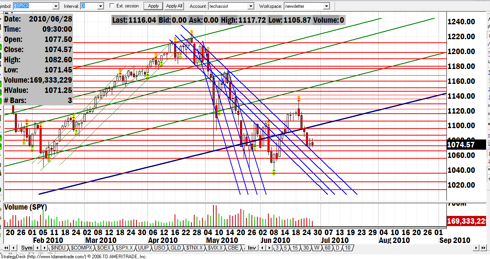 Good Evening!
             I was in the Maya Riviera in Mexico.  Beautiful place!     So it seems we also had a beautiful sell signal on the SPX that registered on June 21st on the daily charts followed by a sell signal at the close last friday on the weekly chart as well.  The price action met support yesterday at the top of the downtrend channel line yesterday with some sideways motion into today.  There's further bearish potential here, but an Independence day rally from support here can't be ruled out.  Personally, besides a January 20 BP put i've been holding onto, i'm staying in cash and will wait to see how this all plays out.
            Gold is riding the underside of the large weekly timeframe trendline we've outlined in previous posts and has failed to have a confirmed break above it.  Currently there are weekly and daily sell signals intact on GLD.
            The Dollar Index has fallen off to support in a consolidating sideways movement over the past 7 trading sessions.
            Oil has been making higher highs, USO faces a significant challenge at the $36.00 mark to continue it's retracement trend.  It's currently at it's 38.2% retracement of it's most recent high/low range.
Best Regards and Good luck trading!
A.W.
www.strategydeskcode.com
Disclosure:
"short BP"