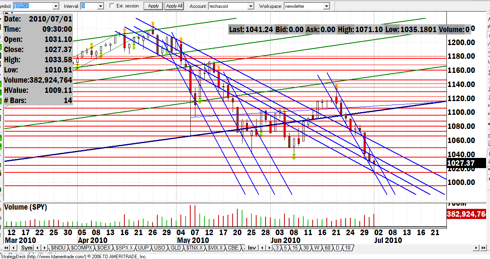 Good Evening!
              The SPX continued it's descent today to reach the bottom of the channel that was originally described back in the last week of April.   There are still sell signals on all timeframes, but consolidation and sideways movement would be the most likely forecast following such a big move down with a possible retracement up to 1040-1050 over the next few days.   I'm not saying to go long, just to wait in cash for another shorting opportunity at 1050 if it gets there.   No doubt SPX @ 1000 is just too close to dismiss at this point but don't go long there either until a basing pattern and an upside breakout occurred. 
              Gold today took it's biggest one day drop since last February, as cited in the last post everything lined up for Gold to sell off the way it did over the past few days.
              The dollar broke down out of it's consolidation pattern continuing it's recent downwards momentum.  Weekly and daily sell signals are intact.
              Oil plummeted today, USO failed the 36.00 resistance to fall to 32.50 support sporting a weekly sell signal for this week.
"To train the mind to see Truth only is to express true conditions only, our ability to do this will be an indication as to the progress we are making." - Charles F. Haanel
Best Regards!
A.W.
strategydeskcode.com
Disclosure:
"no positions"