APOLLO TYRES: INDIAN TYPE MANUFACTURER WORTH GOING LONG
Fundamental Viewpoint:
In June, Apollo Tyres, an Indian tyre manufacturer put in a bid to acquire its American counterpart known as Copper Tyres. A bid for $35/share was put in by Apollo Tyres to buy out Copper Tyres. The market perceived this to be a significantly high bid causing the share price of Copper Tyres to jump almost 35% while the price of Apollo Tyres to plummet by almost the same. Lately, Apollo and Copper have been involved in a lawsuit where Apollo Tyre is trying to lower its bid (arguing it incurred additional costs in process of closing deal) while Copper Tyre wants the deal to be closed at the initial bid. The preliminary judgment by the US Court suggests that Apollo might get away with a lower bid price1. This news has erased all share gains witnessed by CTB earlier in the year while at the same time Apollo still remains beaten down, 19% south from what it was back in summer.
APOLLO TYRES V/S COPPER TYRE STOCK PERFORMANCE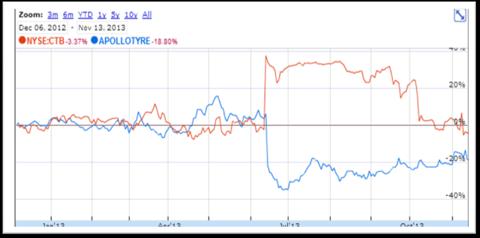 2
An acquisition of Copper Tyres would result in Apollo Tyres becoming the 7th biggest tyre manufacturing company in the world, with international operations in countries like North America, India, China, Africa, Latin America and Europe. The North American market is already undergoing a huge surge in the auto industry and a presence in several emerging markets would mean a tremendous acceleration in growth going forward for Apollo. Copper Tyre also owns production facilities in China, allowing Apollo to outsource tyres from China, a region which has a comparative price advantage in tyre production globally. With Apollo trading at a trailing P/E multiple of 6 and with the industry average at 163, the stock looks deeply discounted at current levels.
Investing in Apollo Tyres, also presents the investor exposure to India, an emerging market which has underperformed this year. With U.S. already out of recession and European economy stabilizing, it looks like emerging countries may get a boost from this global economic recovery. One of the biggest reasons holding down the Indian economy is the policy limiting FDI. With the elections looming up early next year in India, policies can change and might be a source of catalyst. Also, the Indian Rupee which has recently been on a slide is finally showing signs of stabilizing. With the former IMF head, Raghuram, now the chief of the Indian Central Bank, India looks poised to regain the global investor confidence is was once blessed with.
Technical Viewpoint:
APOLLO TYRES 1 YR CHART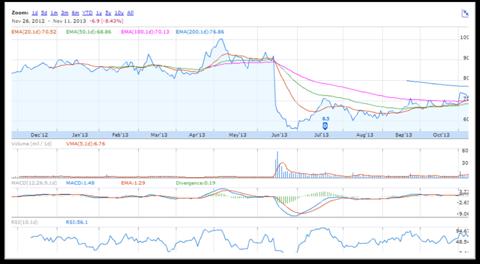 4
Looking at the chart above it seems that the stock is in a breakout mode. It has steadily climbed above the 50 and the 100 day moving averages, turning the prior resistance levels into support. The Relative Strength Index currently stands at 56 suggesting that the stock is not overbought. The MACD has turned positive again showing the momentum is building and the stock should be heading northwards. The stock looks discounted at these levels and offers great value. The risk-reward profile seems to be in favor and it seems like a great opportunity to get long Apollo at current prices. With a tremendous future growth potential lying ahead, the P/E multiple that the company is currently trading at should expand and result in stock price appreciation.
Hedging short term risk:
In the long term Apollo Tyres seems like a solid investment, whereas in the short term the stock movement largely depends on the court decision. In a situation like this, where Copper Tyres has erased all gains and Apollo Tyres still beaten down almost 18% from summer, it may be worth going long both the stocks at current prices. There is a high likelihood that a final decision from the court, regardless of whose favor it is in, will result in a bigger percent gain in one and a smaller percent loss in the other (since one has already shed all gains and the other is still down 18%). I personally feel that a settlement between the two parties might result in the deal closing in the range of $32 -$34. In this instance, if the investor is long both Apollo and Copper, it could mean gaining from both positions. Copper Tyres, which is currently trading at $24 will jump to the acquisition bid price. Apollo's shareholders should welcome the news as well since they'd complete the acquisition at a lower price than initially proposed. In case the judge forces the deal to be closed at $35/share, the percent gain in Copper Tyre should be greater than percent loss in Apollo Tyres in the short term.
Regardless of what happens to Apollo's price in the short term (based on acquisition price), it remains a great long term value play. The acquisition would create a company which is much bigger and diversified in nature. With exposures to developed markets like America and Europe and rapidly emerging markets like India, China and Africa, the new company should see itself on a trajectory of rapid growth. In case the deal does not close (deadline of Dec 31st, 13), Apollo Tyres' stock should gravitate back to where it was before it plummeted, representing an upside of almost 20% from current prices while Copper Tyres should not show much of a move since it has already given up its gains. If the investor is not country biased, the case provides a way to generate 'alpha' as a result of the global market inefficiencies that exist.
(Disclaimer: This article contains my personal opinions. An investor should perform his own due diligence before making any buy or sell decisions.)
Bibliography/Sources
http://www.zacks.com/stock/news/113998/Cooper-Tire-Loses-Lawsuit-Shares-Fall
http://blogs.wsj.com/moneybeat/2013/11/05/cooper-tire-ceo-says-problems-with-china-jv-flagged-to-apollo-tyres/
http://www.nasdaq.com/article/cooper-tire-loses-lawsuit-shares-fall-analyst-blog-cm299472
http://www.bloomberg.com/news/2013-11-10/cooper-not-yet-entitled-to-get-35-a-share-from-apollo.html
http://www.bloomberg.com/news/2013-11-05/cooper-trial-in-2-5-billion-apollo-tyres-deal-set-today.html
https://www.google.com/finance?q=NSE%3AAPOLLOTYRE&hl=en&ei=L8CgUsnJM-v_sQe5lgE
1 Reuters Article : http://www.reuters.com/article/2013/11/09/us-coopertire-apollo-ruling-idUSBRE9A714820131109
2 Google Finance
3 Thompson Reuters
4 Google Finance
Disclosure: I have no positions in any stocks mentioned, and no plans to initiate any positions within the next 72 hours.
Additional disclosure: Apollo Tyres does not trade on the NYSE, neither does it have an ADR here. It is listed on the Indian stock exchange, NSE, and trades under the ticker 'Apollotyre'