By Paul Carton
Following two consecutive monthly improvements, ChangeWave's latest survey of U.S. consumers shows the spending outlook holding steady in October.
One-in-four U.S. consumers (25%) now say they'll spend more over the next 90 days than they did a year ago – down 1-pt since the previous survey in September. But while two-in-five (40%) say they'll spend less – that's actually 1-pt improved from previously.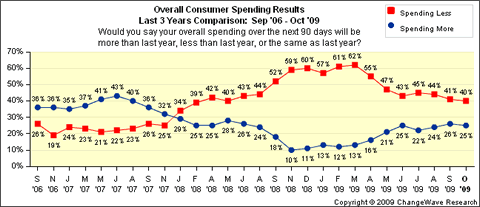 In short, overall spending among consumers continues to remain at the highest level in a ChangeWave survey since May 2008 – but has not improved since our previous survey in September.
Importantly, the October 1-12 survey of 2,731 U.S. consumers also points to a spending uptick for a handful of major retailers as we approach the holiday season.
The encouraging findings are led by a significant pickup in momentum for Macy's (M; +3) and signs of improvement for Target (TGT; +2), Costco (COST; +1) and BJ's Wholesale Club (BJ; +1).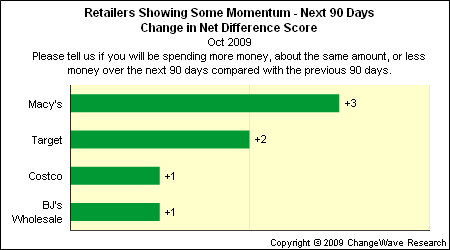 On the entertainment front, once again Amazon (NASDAQ:AMZN) shows the most momentum, with 28% saying they'll be shopping at Amazon for home entertainment and computer networking products over the next 90 days – a 2-pt jump since September and equaling the highest level ever recorded for the online retailer in a ChangeWave survey.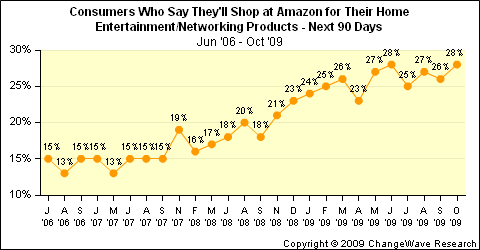 Industry leader Best Buy (BBY; 42%) is also up 2-pts from previously, but continues to remain below its levels of a year ago.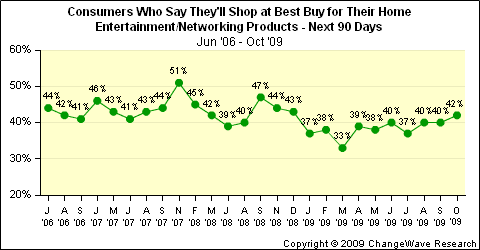 While most overall spending categories remain unchanged and some have even registered a pullback, there is one category in particular that shows improvement:
Restaurant spending is continuing to creep up – with 12% of respondents now saying they'll spend more over the next 90 days compared to 33% less – a net 4-pt jump since September and our best reading in 15 months.
Overall Consumer Electronics spending has also registered a very slight improvement.
On the downside, Automobile spending has dropped right back to the levels we saw before the hugely popular 'Cash for Clunkers' program was announced this past summer.
Lower Consumer Sentiment and Expectations
Counterbalancing the above findings, for the second month in a row we're finding a worsening in consumer sentiment and expectations.
Well over a third (35%) now thinks the overall direction of the U.S. economy is going to worsen over the next 90 days – a 1-pt drop since September. Only 24% believe it will improve – 3-pts worse than previously.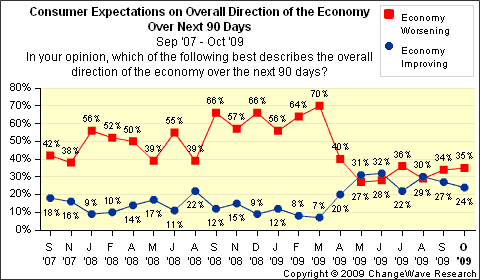 In a sign of weaker consumer confidence, only 25% say they are More Confident in the U.S. stock market than they were 90 days ago and 34% say they're Less Confident – a net 5-pts worse than a month ago.
Other consumer sentiment indicators echo these findings:
Three-in-ten report they worry A Great Deal (9%) or Quite A Bit (21%) about someone in their family losing their job – 1-pt worse than our September survey.
Just 6% say they're very satisfied with the current state of their personal finances, unchanged from the previous survey.
Jean Crumrine co-wrote this article