By Paul Carton
A December ChangeWave survey of 2,690 U.S. consumers shows the overall spending outlook continuing to improve, led by a surge of momentum in consumer electronics spending for the holidays.
One-in-four U.S. consumers (25%) now say they'll spend more over the next 90 days than they did a year ago – up 2-pts since the previous survey in November. While 37% say they'll spend less – that's unchanged from previously.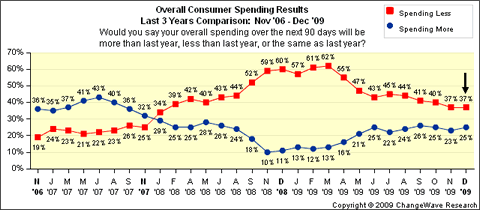 Consumer Electronics is showing far greater momentum than it did a year ago – with 29% now saying they'll spend more on electronics over the next 90 days and just 31% less.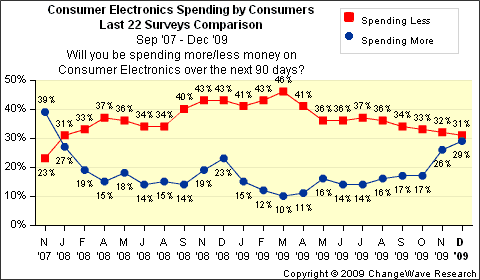 That's a net 4-pt jump from a month ago, and a huge 18-pt improvement over the holiday season of a year ago.
Importantly, we're seeing a rise in planned PC buying among consumers, with 10% planning to buy a laptop in the next 90 days and 7% a desktop – each up a full point since our previous survey in October.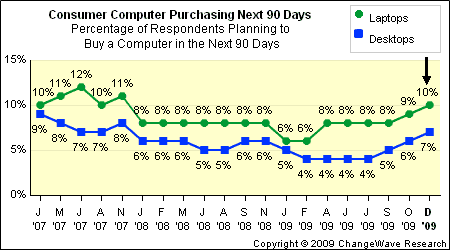 We note that this is the highest level of PC buying since the 2007 holiday season.
In terms of other electronics, our November survey found the Apple iPod (8%; up 3-pts) and the Amazon Kindle eReader (4%; up 1-pt) showing significant momentum compared to both the previous survey and to a year ago.
The December 2-8 survey also shows a further uptick in online shopping since the past month and an enormous increase compared to a year ago – adding to the huge holiday swell for Amazon (NASDAQ:AMZN) that we initially picked up in our November survey.
We asked respondents to tell us which types of stores they'll be spending more or less gift money at this holiday season compared to last year's. There were three big winners, and the following chart points out how different this year is from last year: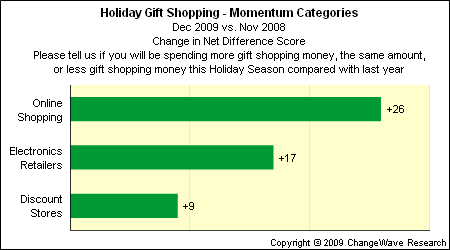 The huge leap in Online Shopping (Change in Net Difference Score = +26) emphasizes how big of a momentum winner it is for this holiday season. Electronics Retailers (+17) and Discount Stores (+9) are also showing major improvements from a year ago.
An Amazon Holiday Season
In our previous survey in November, we asked respondents where they'd be spending their online shopping dollars for the next 90 days – and the findings pointed to a historic blowout win for Amazon this holiday season.
Not only is Amazon showing the most momentum among all online retailers, but its huge 8-pt jump since August represents the largest improvement ever recorded in online spending in a ChangeWave survey.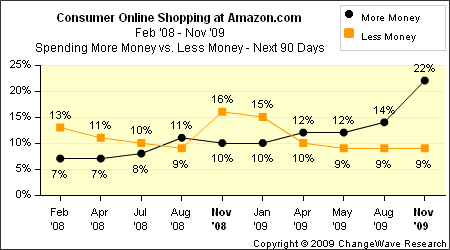 For December, Amazon is also showing explosive momentum in the home entertainment shopping market. Better than one-in-three respondents (36%) now say they'll shop there for home entertainment and computer networking products over the next 90 days – a 5-pt surge since November and the highest level for Amazon in more than 3 years.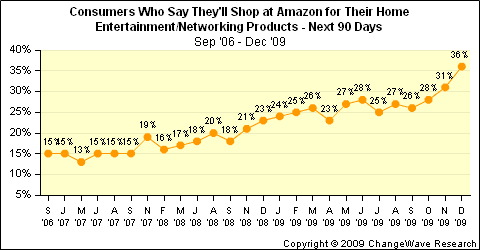 Industry leader Best Buy (BBY; 44%; up 2-pts) and Apple (AAPL; 12%; up 1-pt) are also registering upticks in market share in the current survey.
In the aftermath of the spending increases we recorded last month for Costco (NASDAQ:COST), Wal-Mart (NYSE:WMT), and Target (NYSE:TGT), the major discounters and wholesale clubs have continued to show high levels of spending for December. Each remains at their highest recorded level of the past year.
The ChangeWave survey has also picked up an improvement in consumer sentiment and expectations. In a nutshell, the overall 90 day outlook is as positive and hopeful as any we've witnessed of the past two years.
Jean Crumrine co-wrote this article.
Disclosure:
No Positions