Shuffle Master (NASDAQ:SHFL)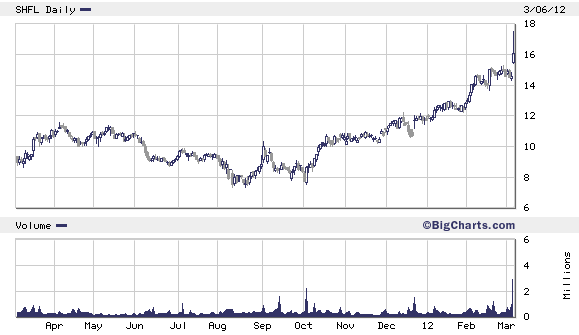 + For the quarter ended Jan. 31 (Q1), Shuffle Master beat expectations on revenues and beat expectations on earnings per share.
+ Booked revenue of $56.1 million. The four analysts polled by S&P Capital IQ predicted revenue of $52.9 million
+ GAAP reported sales were 28% higher than the prior-year quarter's $43.8 million.
+ EPS came in at $0.14. The six earnings estimates compiled by S&P Capital IQ anticipated $0.12 per share.
+ GAAP EPS of $0.14 for Q1 were 56% higher than the prior-year quarter's $0.09 per share.
+ Bought B2B Online-Poker Provider: Very hot sector right now (Zynga etc.)!
+ SHFL is a former Momentum stock (2004, 2006)
+ Breakout to new 52-Week-High
- Gross margin was 63.9%, 270 basis points worse than the prior-year quarter.
Bought 1.000 shares @ 16,03$; Stopp-Loss 15,44$.
Medidata Solutions (NASDAQ:MDSO)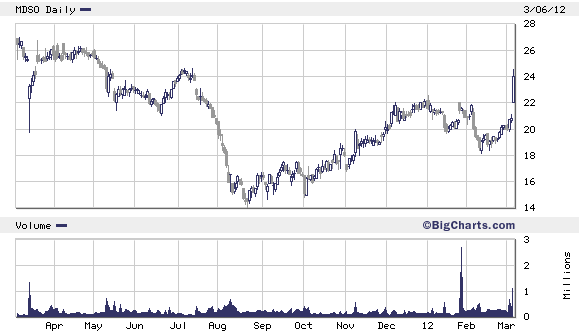 + For the quarter ended Dec. 31 (Q4), Medidata Solutions met expectations on revenues and crushed expectations on earnings per share.
+ Compared to the prior-year quarter, revenue was unchanged and GAAP earnings per share improved significantly.
+ EPS came in at $0.76. The seven earnings estimates compiled by S&P Capital IQ averaged $0.26 per share. GAAP EPS of $0.76 for Q4 were 38% higher than the prior-year quarter's $0.55 per share.
+ Management very bullish: "We are at an inflection point in our growth, driven by market share gains and sales of our non-Rave products. The projected acceleration of our revenue is well supported by the significant backlog with which we enter 2012, as well as a rich pipeline of opportunities. Enabling our customers to cost-effectively transform their clinical research processes through our cloud-based platform creates significant, measurable value for our customers and will continue to drive our future growth."
+ Plus: "While 2011 was a transitional year for Medidata, we are beginning this year with tremendous momentum based on our financial performance, excellent customer retention, feature-rich solution and a solid reputation for innovation and customer service."
No position yet.
Dusa Pharmaceuticals (NASDAQ:DUSA)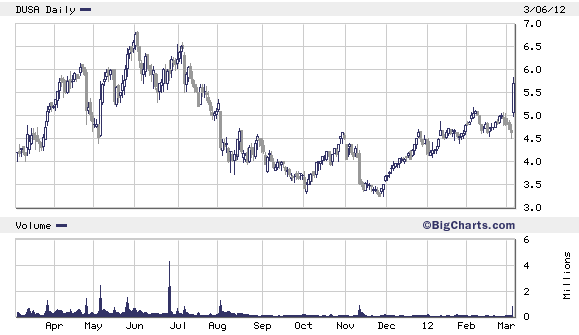 + Analysts at C.K. Cooper initiated coverage of the stock with a buy rating, while Roth Capital analyst Scott Henry raised his price target for the stock to $7 a share.
+ GAAP net income was $3.3 million for the fourth quarter and $7.3 million for the full year 2011, representing year-over-year improvements of $0.4 million and $4.6 million, respectively.
+ The Company generated $3.8 million in positive cash flow during the fourth quarter and $8.6 million in positive cash flow for the full year 2011.
+ Full year 2011 domestic PDT revenues totaled $43.1 million, representing an $8.4 million or 24% improvement year-over-year.
+ "2011 was a very successful year for DUSA, fueled by more physicians and patients adopting Levulan(NYSE:R) PDT as the treatment of choice for actinic keratosis (AK)," stated Robert Doman, President and CEO. "We ended the year with exceptional results, including a 30% increase in domestic Kerastick(R) revenues and the sale of 105 BLU-U(R) units in the fourth quarter alone. This performance drove significant year-over-year income and cash flow improvements. In fact, our standalone fourth quarter 2011 income and cash flow results either met or exceeded our full year 2010 totals."
+ "In 2012, we plan to build upon this momentum by continuing to increase existing account penetration and capturing new business. We also look forward to the results of our Phase 2 clinical trial which is evaluating a number of outcomes that could potentially support the expansion of our product label, including broad area application of the face and scalp, short drug incubation methods and the potential for reduction of AK recurrence in the treatment area," concluded Doman.
No position yet.
Disclosure: I am long SHFL.