The article provides an overview of all growth stocks (CANSLIM) which broke out of Darvas Boxes to new 52-Week-Highs yesterday, triggering a buy signal. The pivot point given is one cent above the old high. Furthermore I show you the highest rated CANSLIM stocks which could break out soon.
$NAHL 92:25 (NASDAQ New 52-Week-Highs vs. 52-Week-Lows)
Palo Alto Networks (NYSE:PANW); Pivot 150,45$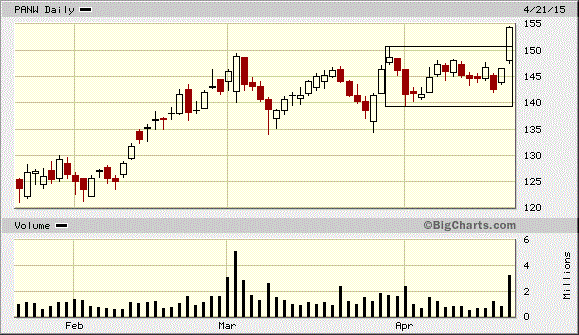 Palo Alto Networks, Inc. provides enterprise security platform to enterprises, service providers, and government entities worldwide. Its platform includes Next-Generation Firewall that delivers application, user, and content visibility and control, as well as protection against network-based cyber threats; and Threat Intelligence Cloud that offers central intelligence capabilities, as well as automated delivery of preventative measures against cyber attacks.
Noah Holdings (NYSE:NOAH); Pivot 30,63$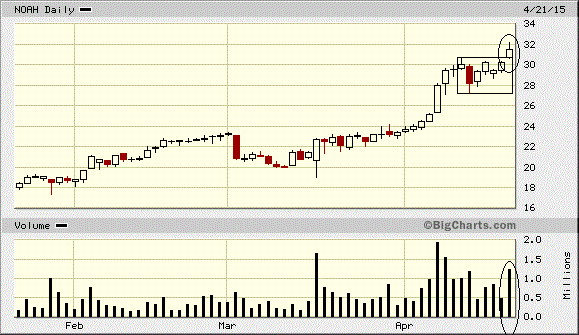 Noah Holdings Limited, through its subsidiaries, operates as a wealth management service provider with focus on distributing wealth management products in the People's Republic of China. The company's products include fixed income products, including asset management plans sponsored by mutual fund management or securities companies, real estate funds managed by it, and collateralized fixed income products sponsored by trust companies that provide investors with fixed rates of return.
Tractor Supply (NASDAQ:TSCO); Pivot 90,50 $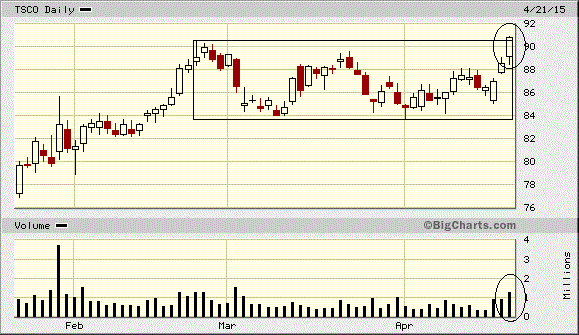 Tractor Supply Company operates rural lifestyle retail stores in the United States. It offers a selection of merchandise, including equine, livestock, pet, and small animal products necessary for their health, care, growth, and containment; hardware, truck, towing, and tool products; seasonal products, such as heating products, lawn and garden items, power equipment, gifts, and toys; work/recreational clothing and footwear; and maintenance products for agricultural and rural use.
Core Molding Technologies (NYSEMKT:CMT); Pivot 19,41 $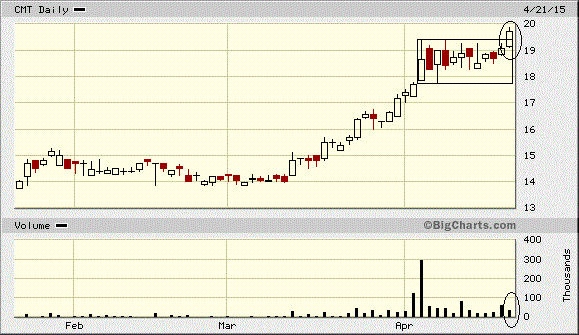 Core Molding Technologies, Inc., together with its subsidiaries, manufactures sheet molding compounds (SMC) and molds fiberglass reinforced plastics. It specializes in large-format moldings and offers a range of fiberglass processes, including compression molding of SMC, glass mat thermoplastics, and bulk molding compounds; and spray-up, hand-lay-up, and resin transfer molding.
Further possible CANSLIM-Momentum-Breakouts for today are $MLNX; $BRCM; $AMGN.