January 8, 2012
This update will follow up on our three stock picks during the fourth quarter of 2012.
Our article on Renewable Energy Trade Board Corporation (NASDAQ:EBOD) was posted on December 4, 2012 with the Company's stock trading at approximately $1.90. As of January 7, 2013, the stock closed at $4.13 for a return of 117%. As per our projections, our short term target was hit and slightly exceeded. We would advise investors to lock in profits at current pricing. We are not suggesting that anyone sell their entire position, but we do advise that one sell enough to recoup their initial investment. As the ole saying goes, you will never go broke taking a profit.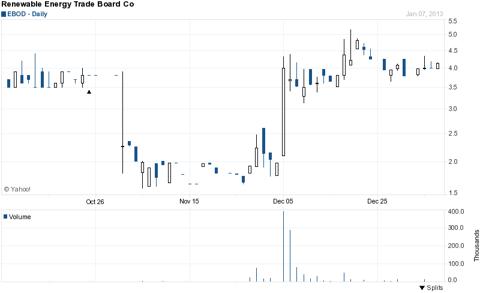 Our second pick, Guanwei Recycling Corp (NASDAQ:GPRC), was posted on December 9, 2012 with the stock priced at $1.67 at the close of trading on December 7, 2012. The stock reached a high of $2.23 after our article was posted for a return of 33% eventually to settle out in the $1.88-$1.95 trading range. I understand that not everyone could have possibly sold their position at the high, but we simply used this trading print to calculate a return. On January 4, 2013, the stock reached a low of $1.38 on what appeared to be market sell orders. I am not sure if this was a short attack on the stock or simply late tax sellers. The stock closed on January 7, 2013 at $1.47 for a return of -12.5% since our article was posted. What do we do now? At this time, we do not add to the position or sell out. I will admit that I am puzzled by the downward pressure on the stock with the fundamentals in place for this company. BUT, this is a Chinese company and we are relying on the financials that are reported to be true. We will now use the low print of $1.38 as a stop price. If the trading action improves over the course of the new few weeks, we will add to the position but only if the move is supported by news from the company.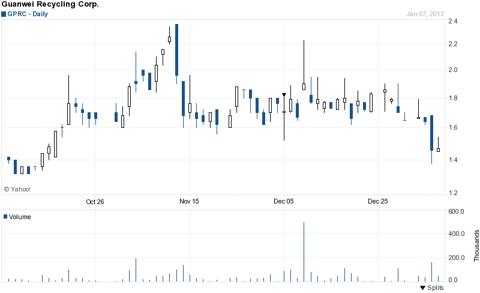 Our final pick for 2012 was Columbia Laboratories Inc. (CBRX). Our article was posted on December 21, 2012 with the Company's stock trading at $.57. The stock reached a high of $.6549 and currently trades at $.63 for a return of 10.53%. The chart is improving on a daily basis and needs a few more trading days in this range before it breaks out. We are staying with our short term price target of $.85. We would add to this position on a break of $.66 with volume.