Crowdstrike´s (CRWD) share price was only able to rise to these heights because the number of shares were artificially limited. After the end of the lockup period, approximately 180 million shares more will be added to the approximately 18 million shares.
I think CRWD's gonna crash real bad when the insiders want to sell their shares. Please look at Tilray (TLRY) as an example. Or to remain in the same segment (CyberSecurity), look at FireEye (FEYE). Same exaggerated valuation and same crash in the past.
Turnover is "only" mediocre and therefore I see a lot of room to move downwards. Why pay 12 billion for CRWD with 400 million turnover?
From the last eanings: For 2020, the company estimated sales between $445.4 million and $451.8 million, while the EPS was forecast between -$0.65 and -$0.62.
For comparison: Symantec (SYMC) with an annual turnover of 5 billion is valued at approx. 15 billion. Thus the triple annual turnover. However, they have far more customers and serve not only the endpoint, but also proxy, sandbox, cloud and many more. Ok, Symantec now has enough problems after the takeover itself...
We see exactly the same story as at FEYE. The futiures business of the company and is massively overestimated. Already next year the growth will cool down massively. The Endpoint detection and response market (EDR) in which CRWD is active is very complex and large companies need a lot of skilled personnel to evaluate the data provided by EDR solutions.
In addition, there is massive competition. CRWD doesen´t have a unique selling point. They don't have a moat.
Compared to a other leading Cyber Security Company (PANW), CRWD is already massively overpriced. CRWD only serves a small area in the Cyber Security market. Even if CRWD is considered as a full endpoint suite, which is certainly not the case, it is overvalued compared to other endpoint security companies. PANW for example serves besides the endpoint market (including EDR Edpoint Detection & Response) additionally NG Firewalls, Sandboxing and Cloud Security.
PANW revenues: $800M last quarter. Market capitalization: $19B (with the advantage of a complete security portfolio with cross selling opportunities)
CRWD revenues: $108M last quarter. Market capitalizationCap: $12B (with niche portfolio only)
One more comment on the valuation:
approximately 60% of the fully diluted outstanding shares are owned by 3 entities.  After Lockup Expiration, 12/09/2019, the price will tank. With the addition of approximately 200M new shares would result in almost 90% dilution in the secondary markets…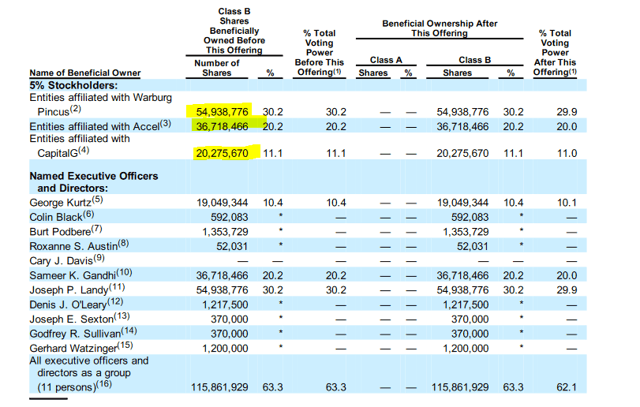 Let's take a closer look at CRWD's technology and competitive situation. The Endpoint detection & response (EDR) market segment is not new. CRWD certainly has a very good technology but also a large number of competitors:
FireEye
Carbon Black
Guidance 
Cybereason
Symantec
RSA NetWitness
Cisco
Tanium
CrowdStrike
McAfee
...
For the special segment EDR, CRWD has a good technology. But most companies do not want another isolated solution, they searching for a complete endpoint solution. and here is the market and competition even bigger. Megaplayers such as Cisco (CSCO) or Microsoft (MSFT) are also active here.
I even believe that growth in the EDR market will decline faster than analysts think. Only the big companies can do EDR themselves. For EDR you need specialists who evaluate the findings accordingly. But these are hard to find and they are very expensive. Also the bigger companies are be addressed soon. And the and the smaller companies will buy a total Endpoint solution.
One more comment on the valuation:

source:https://ir.crowdstrike.com/static-files/899e7942-1290-424e-b4d7-9e5938680571
Wow! What a discount!

source:https://ir.crowdstrike.com/static-files/899e7942-1290-424e-b4d7-9e5938680571
If I didn't miscalculate. This means that the average profit on Class A/B shares, if sold today, would be >1000%.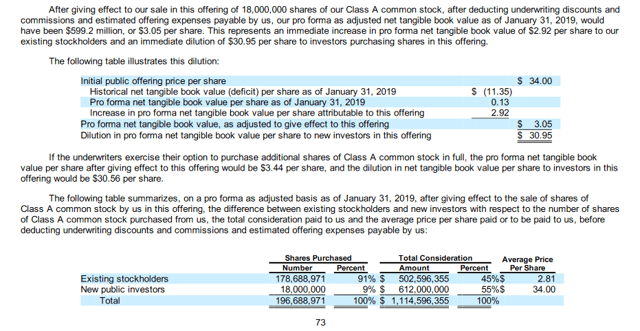 source:https://ir.crowdstrike.com/static-files/899e7942-1290-424e-b4d7-9e5938680571
Pro Forma dilution is $30. And Initial offering $34. Wow! Please think about it. The numbers speak for themselves.
Massive dilution will come with Lockup Expiration, 12/09/2019.
I don't want to evaluate the Trump story at this point, but it's certainly not positive for CRWD.
Conclusion: I admit to the company a generous valuation of 4 billion. This puts my target price at $13-15$. We will have reached this price target by the end of the year at the latest. Please note the Lockup Expiration, 12/09/2019.