Listen to The ETF Store Show every Tuesday at 9am on ESPN 1510 as we cover everything you need to know about Exchange Traded Funds and the world of investing.
Click here to listen to The ETF Store Show now.
With Exchange Traded Funds on pace for another year of record inflows and traditional mutual fund giants aggressively entering the ETF space, it's an exciting time for ETF investors. There are now over 1,500 ETFs available and at The ETF Store, we're hearing from individuals all across the country who want to learn more about ETFs. On our most recent radio broadcast, we explained what's driving this investor interest in ETFs and offered a crash course on why we believe ETFs are a better way to invest - particularly when compared to investing in individual stocks/bonds or actively managed mutual funds.
In our weekly market update, we talked rising interest rates and how they can impact your bond portfolio. As interest rates rise, bond prices decline - and depending on the types of bonds in your portfolio, these declines can be significant. The Wall Street Journal recently published an excellent chart outlining the impact of the most recent spike in interest rates and the return figures may surprise you: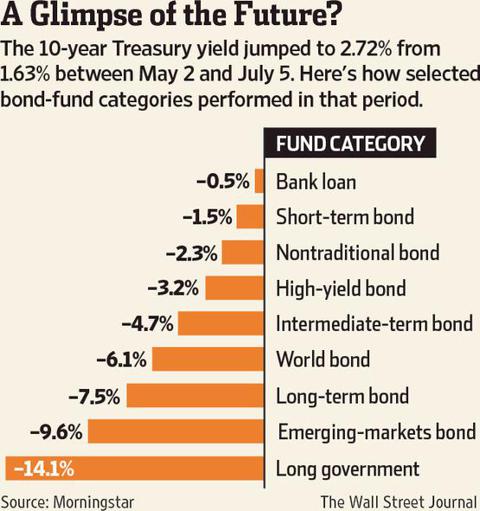 We discussed what you can do to help protect your fixed income portfolio from rising interest rates and explained why the longer your time horizon, the less concerned you should be.
In our ETF Spotlight segment, we highlighted an ETF that costs 0.07%, invests in five hundred of the largest U.S. companies, and closely tracks an index that many actively managed mutual funds simply can't beat (and certainly not with any consistency). The iShares Core S&P 500 ETF (ticker IVV) may seem like a boring, plain vanilla ETF, but we think owning five hundred of the largest US companies for 7 basis points and having all the flexibility that ETFs offer is pretty exciting. Learn more about IVV by visiting www.etfbuzz.com.