The recent rapid oil and commodity declines, will likely precipitate dramatic changes in Venezuela and removal of Maduro, within months*....
The reasons are straightforward:
Current President Nicolas Maduro lacks the populist charisma essential to continuing the programs established by predecessor Hugo Chavez.
Maduro won election in 2013 with just 1.5%, his approval rating was at 30% in September.
Earlier this May, riots in Venezuela triggered by food shortages, hospitals not functioning and security issues have exposed deep resentments of the current systems inability to regulate and deliver on promised goods.
According to the IMF, Venezuela requires $121 a barrel to balance its budget in 2015. Barclay's lowered its forecast from $93 to $72 a barrel for 2015.
Black market exchange rate for the Venezuelan Bolivar fuerte currency illustrates a dire situation getting worse. (see graph below)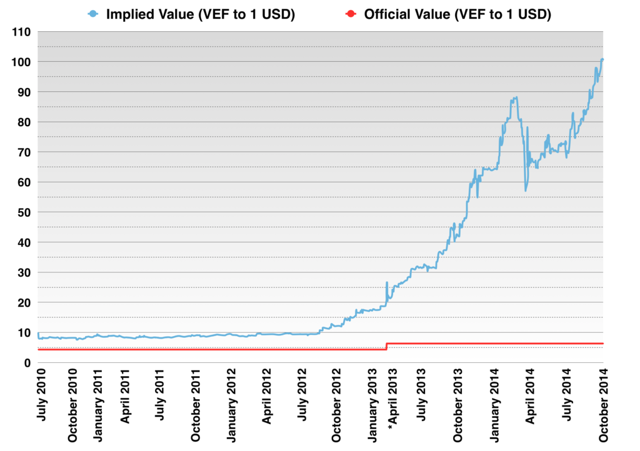 Source: Wikipedia
Simply stated: Maduro really, really needs oil prices to be high.
Furthermore, through the Petrocaribe program Venezuela supplies oil by reducing costs and deferred payments to Cuba, Haiti, Nicaragua, Guatemala and other Caribbean countries. The drop in price will induce countries to delay payments, an attractive feature of the arrangement. This will embolden domestic political opposition, who vilify the program, arguing that giving away oil the political purposes reduces export revenues.
Venezuela has announced spending cuts, but wisely avoided cutting social services, and will continue to do so.
As support of the current regime is largely dependent on the informal labor sector such as street vendors and others excluded from formal jobs with health benefits and stable salaries, cutbacks benefiting these informal workers will come last.
The next election is scheduled for 2018, some iteration of Chavez dream of 21st century socialist government may well last till then, but Maduro will not.*
*unless oil prices rebound