Last year, I published an article about Mc Donald with a mild positive bias.
Since then the stock gained 12% plus 3.4% dividend, outperforming the SPX index by more than 2%.
My final prediction was :"My opinion is that the downward trend is ending, if not before year end, most probably next year".
In fact the downtrend was broken on early January 2013 as showed in the picture.
(courtesy of bigcharts.marketwatch.com)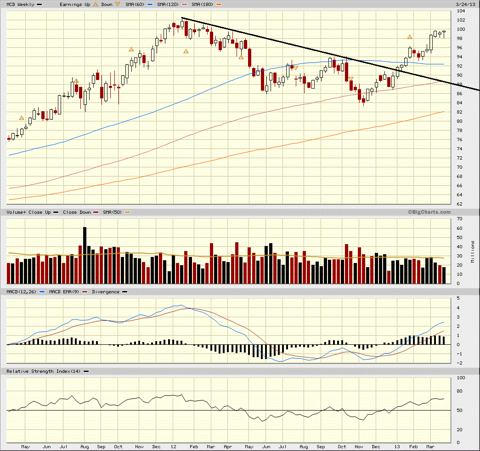 The retreating which followed my article was temporary and provided one last opportunity to buy the stock in the 86-87$ range or to sell 85 or 87.5 puts with a good premium.
There was a decrease in short interests (not high for MCD) in that period (November 30th-January 15th) turning from 13,867,372 to 11,636,014 (data from Nasdaq), which was also a positive sign for the stock.
The future
Now the SPX index is flirting with all time highs and many are suggesting a pull back. Even MCD is nearing all time high of 102 and as PE is 18.42 TTM even this stock could show some retreating.
In the future, expect the stock to overcome that level anyway.
In the short term, another element of caution is the worsening of the cash flow/income ratio in the 4th quarter compared to the 3th quarter.
The cash flow is still very positive, above the income level, but with a slight contraction relative to income.
In 3th quarter income was 1,455,000 and cash flow 1,999,400.
In 4th quarter Income was 1,396,100 and CF 1,850,100.
(data from Nasdaq)
Probably is a short term thing, but something to watch.
Buy back also slowed in the 4th quarter.
Competition
Competition is a manageable problem for MCD, as I stated many times even in my comments.
Anyway, for those looking to invest in competitors, the only one I see is doing really well in term of growth is Red Robin Gourmet Burgers (NASDAQ:RRGB), but is also riskier with its small cap size and 23 PE.
Looks like RRGB has found a niche in the business of higher priced sandwiches, providing even nutrition data for every item, but it is not a real threat to MCD.
There is no competitor with the same international exposure, the same financial flexibility, the same capacity to sustain lower price and a potential upraise in meat cost this year after the spike in corn price caused by the drought.
Additionally, competitors are also hurting each other, more than hurting MCD.
For instance MCD had not problems in food quality like one of competitors had recently in China.
Sometime cheap prices are detrimental to quality, but so far so good MCD.
Conclusion
For those having a huge position in MCD and who need to rise some cash, selling part of it near 100$ can be considered.
I sold 18-20% of my MCD position at 99 with 18% gain plus dividend in 4 months.
I consider MCD fairly valued, not adding long positions at this level, simply watching my short puts expire, but will consider buying more if a stock market correction will bring the stock down as I am expecting to do during the April - June period.
In this case the fair strike to sell puts should be 87.5 level or 90 if you really want to buy the stock but at a discount to the current market value.
Disclosure: I am long MCD. I wrote this article myself, and it expresses my own opinions. I am not receiving compensation for it. I have no business relationship with any company whose stock is mentioned in this article.