I did not write about Walter Energy (NYSE:WLT), but I underestimated the financial problems, and as it is not a frequent thing that I am wrong in this field, it is worthy to give a closer look to the risks this company is facing.
After a failed key reversal signal, the stock made new lows yesterday.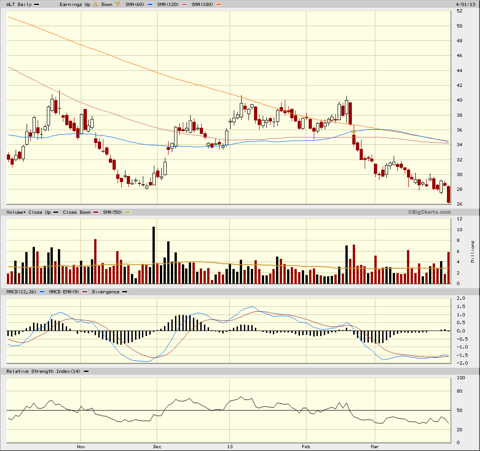 This company produces met coal in North America and one of the best quality in the world with low content of sulfur.
Mining is in USA (Alabama), Canada(British Columbia) and UK.
Exports are mainly to Europe followed by Asia and North America.
Only 25% of the coal produced is thermal coal.
The met coal is used to produce iron ore. Unfortunately, the recover in the iron price was not followed by a recover in met coal price, given the large production capacity.
WLT took 2.4B $ debt to acquire asset at the wrong time.
I have used the alternative Altman-Z score to analyze the financial risk for WLT, like P. Santos did in his articles about other coal companies (mostly thermal coal producers). This method was very useful as allowed the author to correctly predict the bankruptcy of Patriot Coal last year.
From the K-10 filings I took these data for WLT:
CURRENT ASSET 815,816
CURRENT LIABILITIES 554,254
TOTAL ASSET 5,768,420
RETAINED EARNINGS - 347,448
EBIT 47,924
TOTAL LIABILITIES 4,757,849
BOOK EQUITY 1,010,571
Using these numbers , I got the following scores :
T1 = 0.298 Working Capital/Total Asset x 6.56
T2= - 0.193 Retained earnings/Total Asset x3.26
T3 = 0.056 Ebit/Total Asset x6.72
T4 = 0.254 Book Equity/Total Liabilities x1.05
_____________
0.414 Total
A value lower than 1.1 is indicative of a danger zone, and WLT is in that field.
In this situation there is little margin for errors . For ANR (Alpha natural resource) Santos reported a value of 0.53, but WLT is still higher priced than ANR.
This low score does not mean that these companies will necessarily go bankrupt, but there is little margin for errors.
Unpredictable things can happen.
Production is actually concentrated in British Columbia and Alabama, only 2 geographic areas with risks associated to lack of diversification.
WLT is facing legal problems with the Canadian native population, with the pension plans and black lung disease, with environmental issues, with the transport of coal, with the debt to be repaid in 2014, and finally with the Audley fund. This fund asked to replace some members of the board, but without making an effective proposal to solve the problems.
Disclosure: I have no positions in any stocks mentioned, and no plans to initiate any positions within the next 72 hours. I wrote this article myself, and it expresses my own opinions. I am not receiving compensation for it. I have no business relationship with any company whose stock is mentioned in this article.