Cooper Companies (NYSE: COO) reports Q2 FY 2015 results on Thursday, June 4. Analysts are looking for $1.76 in EPS and $454 million in total revenue for the quarter. Prudena's models indicate that COO shares are appropriately valued, though asymmetric value distribution from a Monte Carlo simulation signifies upside potential. Industry stability, Cooper's market leadership, and the upside potential has led analysts to rate COO favorably.
Assuming a 7% required rate of return, Prudena's simple residual earnings model indicates that COO is appropriately valued at $182.97. The current price implies 3.68% long term residual earnings growth. Given current fundamentals and short term estimates, this growth rate is well within the range of likely outcomes assuming that future results are in line with historical long term returns.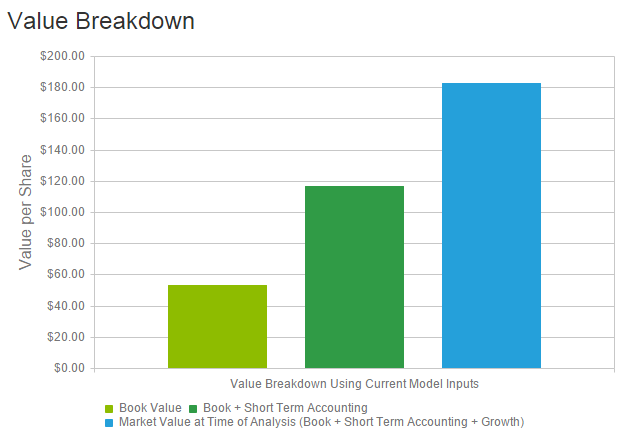 Prudena's Monte Carlo simulation indicates that the most likely intrinsic value for COO shares is $192.87, which is 4.4% above the current price. The value distribution from the Monte Carlo simulation suggests that Cooper has asymmetric upside potential. Prudena's valuation is based on long term earnings growth rates between 7.0% and 7.5%.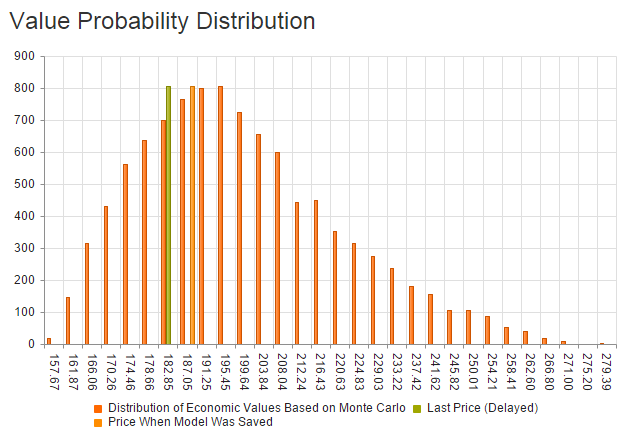 The Bull Case
According to a February 2015 report by Research and Markets, the global soft contact lenses market is expected to grow at around 6% during the next five years. As the third largest manufacturer of soft contact lenses (with 22% market share), Cooper will benefit from this growth trend. Further, the company has recently outpaced the market in terms of growth; CVI revenues grew 8% during 2014 as compared to 4% overall market growth. Management expects 9% revenue growth during 2015 versus the industry expectation of 6%-7%. Cooper is taking share from competitors, and the company increased its market share from 16.5% in CY 2012 to 20.5% in CY 2014.
Cooper Companies has also delivered margin expansion. Gross margin increased from 58% to 65% during 2010-2014; operating margin improved to 23.5% in 2014 vs 18% in 2010. The company expects its operating margin expansion to reach 26% by 2018. Further, Clairti and MyDay offerings of the company are gaining traction. Positive near term catalysts include the launch of MyDay and silicon hydrogel lenses, and a potential exclusive licensing deal with EP Global. Hydrogel lenses are witnessing adoption while EP's new technology can fetch around $5 billion per annum in the Ophthalmic market.
The Bear Case
Cooper competes with well-established players in both of its divisions, including Johnson & Johnson, Novartis, Valeant, Boston Scientific and Medtronic. Shares are valued somewhat richly. The company trades at 23 times 2015 earnings while EPS is expected to grow at 14% per annum for the next five years. Short-term headwinds for the company include the effects of a strong dollar and capacity constraints. Charges related to recent acquisitions will continue to negatively impact earnings results going forward.
Conclusions
Cooper Companies is a market leader in a stable and mature industry. Analysts forecast mid to high single digit growth for the market as a whole, and Cooper is expected to continue its history of outperforming the market. Despite this positive outlook, Prudena's models suggest that much of the likely upside is already built into the price. Analyst recommendation is generally positive to neutral, with most analysts rating the company buy or overweight.
In Thursday's earnings call, investors should pay attention to the impact of dollar appreciation, comments on demand in each product category, and discussion on the progression of integration and restructuring efforts.