Despite strong performance and outlook, Facebook's (NASDAQ: FB) valuation assumes continued strong growth in the long term, a difficult time frame to forecast for a web-based service company. Prudena's models illustrate just how much speculation is involved in the current valuation of FB shares. Facebook may be a worthy buy at this stage of its maturation, but bulls should by no means count themselves as fundamental value investors in this case.
Models
Prudena's models assume continued strong growth for Facebook and take some very bullish inputs. Assuming an 8.0% required rate of return, the current market price of $82.05 implies 6.99% long term residual earnings growth. This is an exceptionally high implied growth rate, but it is unsurprising for a tech firm in its growth phase.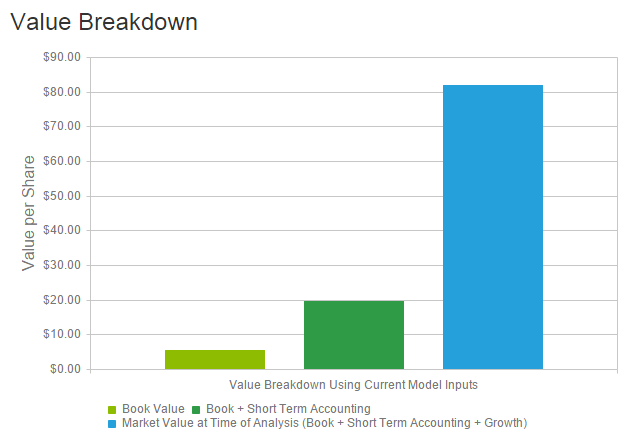 Forecasting EPS growth in excess of 25% over the next 5 years and consistently topping 10% in the long term, Prudena's residual earnings model estimates $65.36 in value per share. A Monte Carlo simulation based on that residual earnings model while accounting for future income uncertainty, assuming long term residual earnings growth between 5.5% and 7.5%, estimates a most likely value per share of $62.90. Similarly likely outcomes of the Monte Carlo simulation include prices as low as $57. The current price of $82.05 falls within the distribution of values from the Monte Carlo sim despite being 26% higher than the most likely value.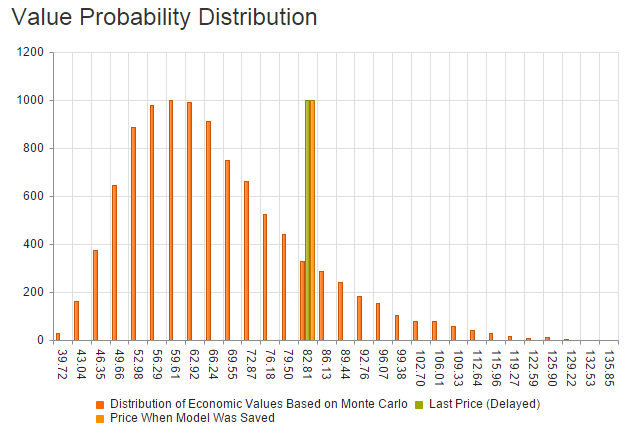 Investors should note that simple residual earnings models are inadequate tools for analyzing valuation of a growth company. However, Prudena's models are very useful for fundamental investors seeking to isolate the role of speculation in valuation and assess the implications of that speculation.
The Bull Case
Facebook has successfully transitioned towards a mobile platform. The company's monetization on mobile is even more efficient than the desktop version of the site. Facebook is still managing double digit user base growth, largely in emerging markets. During the first quarter of 2015, the company's monthly active users (MAUs) grew 13% on a year over year basis; daily active users grew 17% during the same period. More than 86% of Facebook's traffic is coming from the growing mobile space. This makes Facebook a very attractive proposition for advertisers going forward. According to reports by PwC, the internet advertising industry will reach $240 billion by 2019 at a 12.1% CAGR. Video advertising is expected to grow at 23.8% during the same period.
Increasing penetration of internet users across the globe and rise of connected devices are creating growth opportunities for Facebook. As a web scale player, Facebook will also benefit from technological innovations which make data storage and transmission less expensive. Facebook's earnings are high quality, evidenced by $1.5 billion in quarterly operating cash flow generated by the company. Further, Facebook has the leading gross margin among its peer group. Facebook has also acquired certain companies, such as WhatsApp and Oculus, which can be strong growth drivers in the future.
The Bear Case
While Facebook's network effect generates a substantial barrier to entry, there are competitors in the social network space. Google has thrown its hat in the ring with Google Plus, though the success of this venture has been muted. Snapchat has continuously gained users while adding functionality. Twitter (NYSE: TWTR) has some overlap with Facebook's functionality and both companies will likely grow into similar spaces. As Facebook relies increasingly on emerging markets for growth, there is concern that the current ARPU is unsustainable. ARPU tends to be much higher in North America and Europe than in Asia-Pacific.
The strongest bear case to be made against Facebook centers on its rich valuation. Price-to-Sales of 16x is high relative to competitors. For reference, Google's (NASDAQ: GOOGL) P/S ratio is 5.35. FB stock is trading 60x 2015 consensus GAAP earnings. This results in a PEG ratio at about 2.3, a level that is usually considered high. These metrics show that the market is assuming long-term growth and industry dominance, and web-based services can fall out of favor much more quickly than more traditional businesses.
Conclusions
Facebook has performed very well in recent years and continues to grow quickly despite its enormous scale. The company has been especially adept in adjusting to the rise of mobile traffic, which has proven to be a better source of marketing income than traditional PC display ads. Growing demand for video content and improving ability to deliver video represents a major opportunity for advertising revenue growth, as these sorts of ads will generally be more engaging during the average user's 30 minutes on Facebook each day. Facebook is a clear market leader with substantial growth prospects.
Despite all of the historical and forecast success, shares may be too expensive to buy. Prudena's models show that the rich valuation does indeed entail significant speculation. While a simple residual earnings model is not sufficient for analyzing the share price of a growth phase tech firm, fundamental investors can use Prudena's tools to understand the assumptions implicit in the market price. Long investors may justify their position by pointing to the vision of founder Mark Zuckerberg or the ambitious potential of acquired businesses such as Oculus. Such factors are no doubt difficult to quantify and may not be appropriately reflected in forward earnings assumptions. However, forecasting so far into the future and the uncertainty around the required strong growth many periods out both fall under the umbrella of speculation. Anyone long FB should be aware of this.
Disclosure: The author has no positions in any stocks mentioned, and no plans to initiate any positions within the next 72 hours.