Ingram Micro (NYSE: IM) is an established market leader with a valuation implying negative long term residual earnings. This attractive valuation and strong market presence have led to largely positive analyst recommendations. Prudena's models confirm the attractive valuation, though Ingram's function in a portfolio is likely better performed by other equities.
Company Background
Ingram Micro, Inc. is the world's largest wholesale distributor of IT products including peripherals, systems, software, networking and mobility solutions. IM also provides supply chain and cloud services. The company's fee based supply chain services incorporate end-to-end functions of supply chain for vendors, resellers and internet retailers. Ingram Micro aggregates 224 cloud solutions from 74 vendors to offer comprehensive cloud services. Channel partners and IT professionals can buy, deploy and manage cloud services from Ingram's marketplace. The company targets clients including resellers, value added resellers (VARs), corporate resellers, retailers, mobile network operators, systems assemblers and cloud providers.
Ingram Micro's net sales totaled $46.49 billion during year ended 2014, a 9% year-over-year increase. Revenue contribution from North America and Europe was 43% and 31% respectively during year ended 2014. The company generates 30%-40% of total revenues from peripherals, 30%-35% from systems, 11%-17% from software, 13%-17% from networking and around 15% from mobility. No single customer accounted for more than 10% of the company's sales during 2014, though sales of Hewlett Packard's products were 18% of the total revenue during the year.
Ingram is a Fortune 100 company representing 1700 suppliers and servicing 200,000 customers. The company was founded in 1979 and is headquartered in Santa Ana, California.
Models
Assuming a 7% required rate of return, a multi-stage residual earnings model estimates value per share of $29.24, which is 9.8% above the current market price. Prudena's implied residual earnings growth calculation based on a simple residual earnings growth model returns a misleading value of 201%. In Prudena's model, Ingram Micro's EPS is forecast to grow 7.5% over the medium term before approaching GDP growth rates. This is slightly below average analyst estimates. Under these assumptions, the forecast ROE is insufficient to establish residual earnings above zero in the long term. IM is trading at a discount to book plus discounted short term residual earnings with a price to book ratio of roughly 1, meaning the current price assumes negative future residual earnings or a negative terminal value. A large positive residual earnings growth rate in this case reflects a base value which is low and negative. As such, the implied growth rate calculator has limited explanatory value in this instance.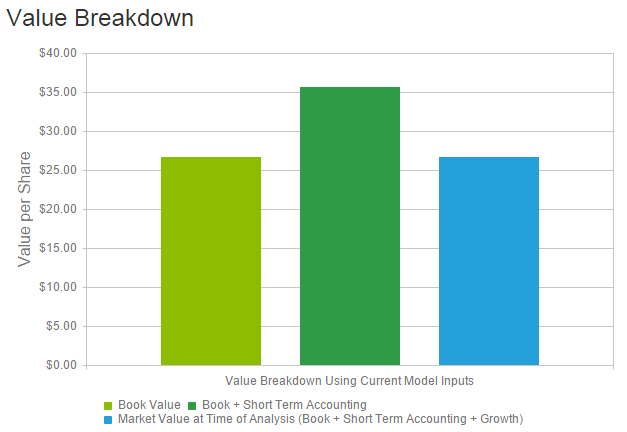 $32.96 is the most likely value estimated by Prudena's Monte Carlo simulation, which is 24% above the current market price. This estimate is probably too bullish as a result of the limitations of simplified residual income models.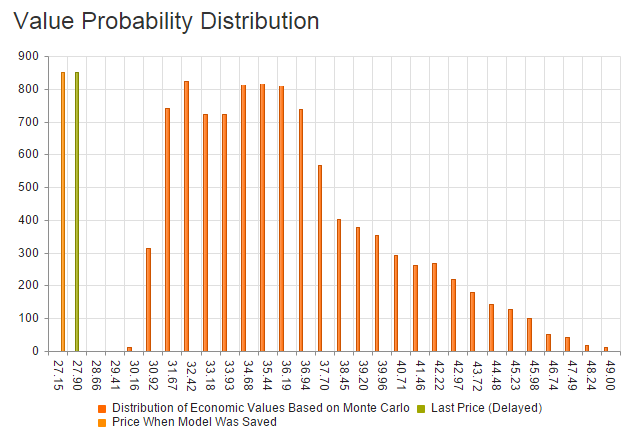 Try your own model on Prudena!
The Bull Case
Ingram's aggressive pursuit of cloud services should serve as a growth driver in coming years after the company launched a revamped version of its cloud marketplace during 2014. Aggregation of cloud services on a single platform is compelling for vendors and resellers, and public cloud IT services spending is expected to grow at CAGR of 22.8% until 2018, according to IDC. Ingram is also in the process of expanding its cloud offerings to Europe. Further, the company recently organized a successful cloud summit with 1500 channel partners.
Management is targeting $100 million in cost savings during 2016 and planning to resume a share repurchase program. The company has strategic relationships with Juniper (NYSE: JNPR), Cisco (NASDAQ: CSCO) and IBM (NYSE: IBM) on the network side. Further, the company has been expanding its international footprint through acquisitions like ANOVO and Tech Data's businesses. These acquisitions effectively expand Ingram's footprint in Europe and the high growth Latin American market. Inclusion of HP's converged infrastructure enterprise product line exposes Ingram to the growth prospects of the converged infrastructure market, which is booming due to the adoption of cloud and off-premise data center deployments.
Ingram has a sufficient liquid position with $509.9 million in cash and cash equivalents as of April 4, 2015. The current ratio stands at 1.67.
The Bear Case
Growth prospect aside, the company supports a sub 1%net profit margin, which is not a healthy sign given that counterparts like Arrow Electronics (NYSE: ARW) and SYNNEX Corp. (NYSE: SNX) have higher margins. Around 18% of Ingram's revenue came from Hewlett Packard's products during 2014, so a soft outlook for printers and PCs could be troublesome. Regarding cloud services, cloud providers can conduct business directly with resellers, eliminating the need for marketplaces such as that offered by Ingram. This is a visible threat to Ingram's cloud services that will likely entail margin pressure going forward.
As a wholesale distributor, Ingram operates in a very competitive environment. The company mentioned in its Q12015 report that it's facing tough competition from Avnet, Inc. (NYSE: AVT) and Arrow Electronics in the US. Network partnerships are positive developments, but any potential future growth in software defined networking and virtualization will be offset by reduced sales in networking hardware products, because virtualization minimizes the need for specialized hardware. A trend toward virtualization in general is a threat to Ingram's established network hardware business. Moreover, a shift toward software and services may negatively impact the revenue and margin over the medium-term.
Conclusions
Ingram Micro boasts a stable, albeit cyclical, business with strong short term growth prospects. The company's market leadership, scale, and relationships with large technology firms create a moat to ward off new competitors. In the long term, Ingram will have to successfully navigate a highly competitive and evolving environment. Margins are tight and certain growth categories will likely cannibalize existing business as technology and consumer tastes change.
A mature, low-margin wholesale distribution business may not excite investors, but the seemingly cheap valuation for IM warrants dissection. Adjusted forward P/E under 9x is cheap relative to peers and the market as a whole. Prudena's models show that the current price assumes negative discounted residual earnings or a negative terminal value. A multi-stage residual income model confirms that such expectations are reasonable in the long term, though the ROE necessary to overcome this is attainable. Overall, it would appear that IM is undervalued, but investors are likely to find better opportunities to capitalize on global macro growth or protect against global macro uncertainty.
Contributors: Soid Ahmad, Ryan Downie
Disclosure: I/we have no positions in any stocks mentioned, and no plans to initiate any positions within the next 72 hours.