Technology giant Intel (NASDAQ: INTC) dominates its global market and has several factors supporting demand despite weakness in its traditional PC market. Despite threats to certain important end markets, investors have justification for optimism regarding Intel's stability. Value investors might be interested in Intel's stability and 3.6% dividend yield, but there is insufficient evidence to expect significant appreciation based on fundamentals.
Model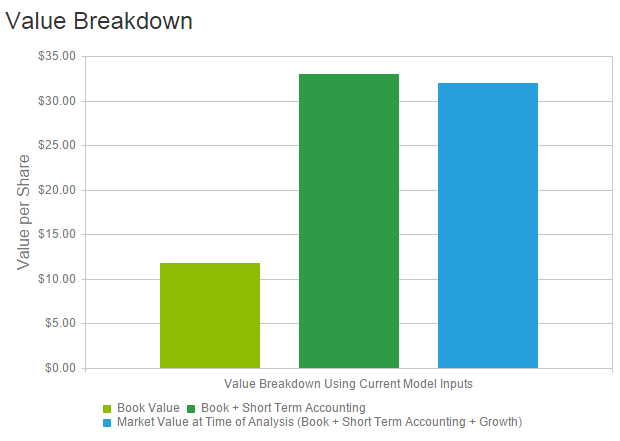 With a 7% required rate of return, Intel's current price of $31.95 implies long term residual earnings growth of -0.35%. Prudena's residual earnings model estimates value per share of $33.21, 3.9% above the current market price. A Monte Carlo simulation which builds uncertainty into a simple residual income model estimates a most likely value of $34.37 per share, 7.6% above the current market price. This simulation assumes long term residual earnings ranging from -1.0% to 2.0% and forward EPS ranges based on analyst estimates.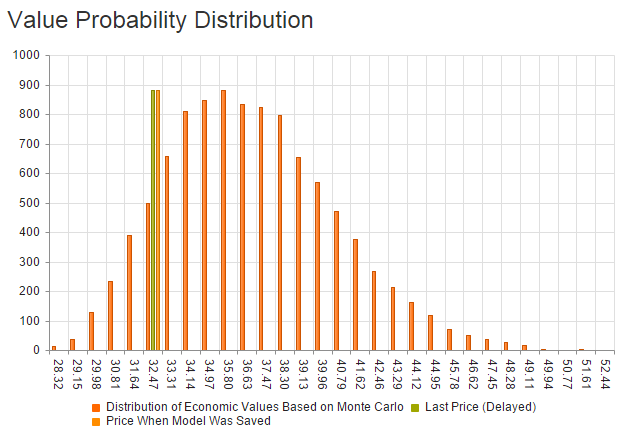 Try you own models at Prudena!
The Bull Case
Intel dominates the microprocessor market in both PC and servers. Advanced Micro Devices (NASDAQ: AMD) is the only competitor on the PC side, but AMD's share peaked at 20% in the mid 2000s. Intel now has over 92% share in notebooks and over 82% in desktop global market share. Intel is already marketing 14nm products while AMD is targeting a 2016 roll out this technology. Intel is even more dominant in the node hardware space, with over 98% of the global market. Their lead in node technology allows them to maintain a dominant volume position while charging a premium for its products.
In the PC group, the company looks likely to continue dominating the high-end market for ultra-books, convertibles and slim notebooks. While consumers are shifting toward tablets and smartphones, enterprise and productive applications will support demand for portable computers going forward. PCs are being replaced by ultra-books, not by tablets and smartphones, for many productive applications. This is an important counter point to the "death of the PC" narrative, especially for enterprise sales.
Intel's success in the smartphone and tablet market has been muted relative to other hardware categories, but the company is positively affected by the growth of these markets indirectly. IP traffic is expected to witness double digit growth during the next five years, according to Cisco and other industry analysts. Data storage and networking requirements are expanding alongside IP traffic, and Intel's data center and networking business will benefit from factors including adoption of cloud, richer web content, big data and the rise of IoT. Intel's recent acquisition of Altera expands the company's addressable market in the data center space with the acquired field-programmable gate array business.
Investors will be attracted to Intel's strong cash flow generation and extensive research and development budget. Operating cash inflow was $20.4 billion in 2014. Research and development expenditures of the company totaled $11.5 billion in 2014, more than any other technology company in North America. These expenditures are the very reason Intel maintains a leading technology position in its industry. The massive R&D budget will also allow Intel to compete in the IoT and mobile spaces.
The Bear Case
The PC market, from which Intel generates most of its profits, has been shrinking and almost certainly will continue to do so in coming years. To sustain its global dominance, Intel has to transition towards mobile, cloud and IoT. This transition has required substantial engineering expense. Intel was also unable to benefit from first mover status in these markets, playing catch up against players like Qualcomm (NASDAQ: QCOM). Intel recently launched its first integrated SoC solution, SOFIA, for mobiles. Qualcomm and others have been doing that for several years now. Intel has yet to enter the high end mobile device market as the company's 4G integrated SoC has not been introduced. Moreover, the mobile side favors ARM technology, and Intel is not a leader in this space.
IoT is touted as one of the potential growth businesses for Intel, but the company is not performing well in small form factors. x86 is not an ideal architecture for IoT applications due to power consumption. Intel has been trying to address that by moving to a smaller variant, which is expensive process. Intel's IoT potential may therefore be limited to the data center side rather than the IoT product side.
AMD has been a resilient competitor. The company competes on pricing and can challenge Intel on the lower-end of PC and notebook market. Further, AMD has a superior GPU technology, which serves a selling point for casual laptop gamers. AMD is also planning to use Samsung's 14nm process for its next generation products. Removal of technology gap can have a material impact on the sales of Intel's processors and margins going forward.
Conclusions
Intel is a stable, mature business which holds a dominant market position in multiple categories. Though the trend toward mobile computing and small form factors is a threat to Intel's current book of business, the company will still enjoy some support from enterprise, data center and networking clients. The company's longer term growth outlook is reasonably expected to approach that of global GDP in the mid single digits.
Intel's forward P/E ratio of roughly 13.5 may signal an attractive opportunity for value investors, as will a dividend yield of 3.1%. Prudena's models suggest that INTC shares are undervalued by 4%-7%, but this upside is likely too small to tempt investors looking for price appreciation. Intel's global dominance actually bounds its growth potential, while evolving technology and weak PC demand constitute real threats to the downside. With the margin of safety indicated by Prudena's models, Intel might be a good play for investors seeking stability and relatively cheap dividends, but there is no compelling narrative for investors seeking appreciation on fundamentals.
Contributors: Soid Ahmad and Ryan Downie