Ford (NYSE: F) looks cheap at first glance based on several valuation ratios. Considering the company's brand strength and optimism around both Ford's growth prospects and the global automotive market, this stock warrants some investigation. Closer inspection shows that the current valuation is in-line with Prudena's residual earnings models and that Ford valuation is actually comparable to peers. Overall, Ford could be a decent play for investors seeking dividend yield from companies in the space, but there are other auto manufacturers with similar pricing and superior recent results. There is little cause for investors to expect significant price appreciation.
Model
Prudena's implied growth rate calculator shows that the current market price of $15.66 implies -6.3% long term residual earnings growth, assuming 8% required rate of return. A simple residual earnings model estimates value per share of $16.39, 4.7% above the current market price.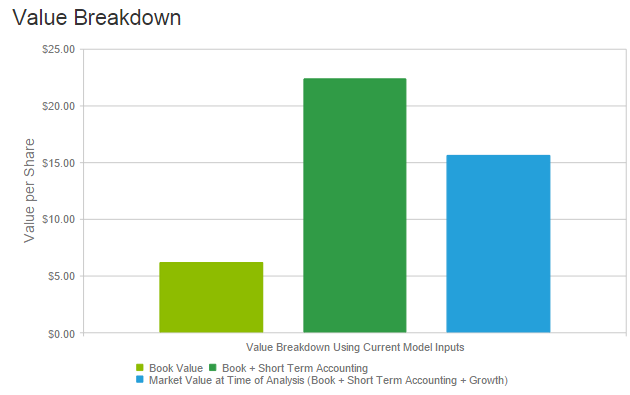 A Monte Carlo simulation based on this residual earnings model calculates a most likely value per share of $16.93, 8.3% above the current price. Prudena also built a more complex multi-stage residual income model which accounts for several scenarios which include the impacts of cyclicality. This model estimates share value of $14.60, 6.4% below the current market price. Taken together, these results suggest that Ford is within the range of appropriate valuation.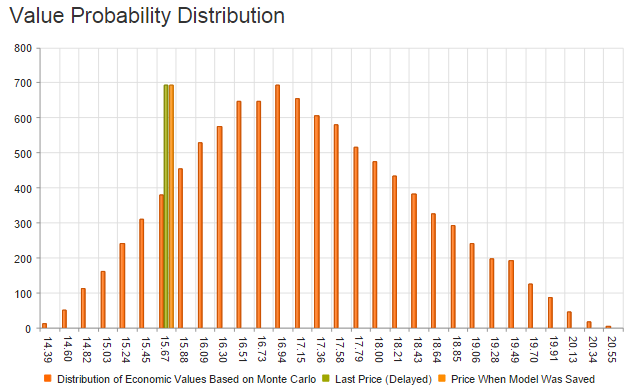 Try your own model at Prudena!
The Bull Case
Ford is the second largest US auto manufacturer after General Motors (NYSE: GM). Ford and Lincoln brands are well recognized in North America, placing the company among the leaders in the region. Ford's 13% gross margin compares favorably to GM's 11%. Ford's performance in Q1 2015 reflects Asia Pacific wholesale volume growth, particularly in China.
Management expects a strong second half of 2015, catalyzed in part by F-150 pricing. According to ALG, F-150's cost of ownership over a three year period is $4,000 lower than General Motors' Silverado and $6,000 lower than Fiat's Ram. Analysts are optimistic about improved F-150 availability, EU recovery and continued gains in China. From a macro perspective, lower oil prices will be a tailwind for automotive sales by stimulating miles driven. Relatively fuel inefficient vehicles, like Ford's popular trucks, are also more attractive when oil prices are low.
Ford offers attractive valuation, with forward PE stands of 8.1 and a PEG ratio well under 1. Analysts expect earnings to grow over 17% annually during the next 5 years, well above historical rates, due to strong demand in China and continued global economic recovery.
The Bear Case
Ford has experienced downward pressure on both sales and margins in recent periods. Sales declined 2% in 2014. Ford's global market share fell from 7.3% to 7.2% while the company's US market share dropped from 15.7% to 14.7% during 2014. Margin erosion can be attributed to strengthening dollar but market share decline indicates subpar competitive performance of the company.
Ford will be negatively impacted by an increasingly strong dollar. A potential interest rate hike may also affect demand for financed purchases. Growth of electric vehicles is a long term threat to Ford. Tesla (NASDAQ: TSLA) has the first movers' advantage in that space. Ford was ranked at #6 in brand perception of quality for mainstream cars by ALG; Lincoln got a 60.9% on luxury vehicle index as compared to the average of 63.1%. Lagging brand perception can impact Ford's sales and pricing power globally.
Though Ford's valuation is attractive relative to the market as a whole, it is largely in-line with that of peers. GM has a lower forward P/E, and both GM and Toyota (NYSE: TM) have lower PEG ratios. Ford is also heavily leveraged, with a debt to equity ratio of 4.38.
Conclusions
Ford should continue to benefit from large global market share, strength in the Chinese automobile market, and the strength of the F-150 within the pickup truck market. Though analysts hold an overall modestly favorable outlook for the automotive market, Ford's performance has slightly lagged that of competitors, and new market entrants offer a further threat to long term stability. Prudena's models suggest that Ford shares are appropriately valued at the current price of $15.66 despite the seemingly cheap valuation. Even though Ford slightly lags peers in recent growth and market share, it is not really cheaper than its peers on a forward P/E, PEG, or dividend yield basis. Ford might be an opportunity for investors seeking a decent dividend yield from a mature global firm with some protection to the downside, but it is not a good price appreciation play.
Contributors: Ryan Downie and Soid Ahmad
Disclosure: I/we have no positions in any stocks mentioned, and no plans to initiate any positions within the next 72 hours.