Fast-casual restaurant chain Chipotle (NYSE: CMG) released Q2 2015 earnings on July 21. Overall and comparable sales were below estimates, with same-store sales growing 4.3% versus the 5.8% expected by analysts. After trading down sharply following the earnings release, shares rebounded thanks to evidence of pricing power, promise in new markets, and alleviation of supply issues. Shares are currently trading at all time highs. Rich valuation and strong analyst opinion despite some warning signs of abating growth warrant inspection from a fundamental perspective. Prudena's models indicate that shares appear over valued, even given bullish assumptions.
The Model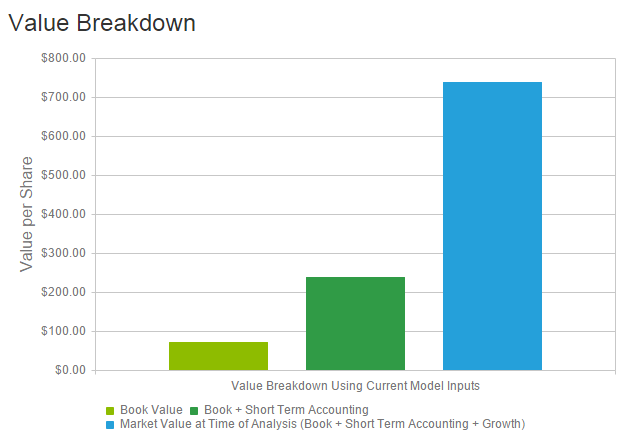 Assuming an 8% required rate of return, the current market price of $738.42 implies 6.10% long term residual earnings growth. 6.1% is a high long term residual earnings growth value, but growth companies with high ROE typically display higher long term residual earnings growth. Prudena uses a longer term residual earnings model to reach a steady growth state because of Chipotle's current rapid expansion. This multi stage model assumes 21% annual EPS growth over the next five years, followed by several years of double digit growth and finally high single digit performance in the longer term. These inputs are aligned with bullish analyst expectations and reflect positive investor sentiment around the story. Prudena's model estimates value per share of roughly $625.60, 15.2% below the current share price.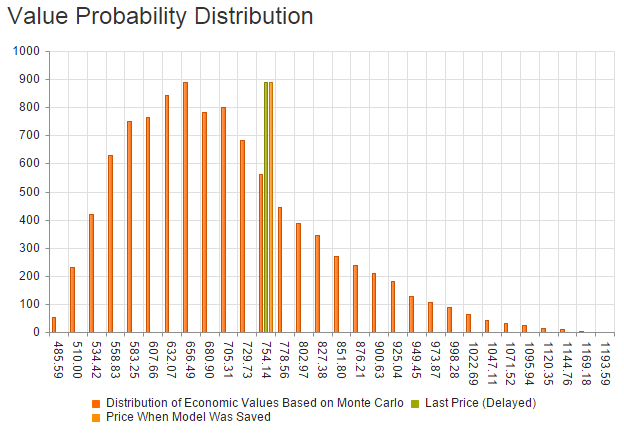 A Monte Carlo simulation, which builds input uncertainty into the residual earnings model, outputs a distribution of possible values ranging from $490 to $1008. This wide range is attributable to uncertainty regarding the timing of growth deceleration. The most likely value estimated by the Monte Carlo simulation is $678, 8.1% below the current share price. CMG's market valuation falls well within the range of likely outcomes, but unmistakably above the values estimated by Prudena's models.
The Bull Case
Fast-casual restaurant growth is outpacing other restaurant formats in the US. According to Mintel, the combined sales of American fast-casual restaurants grew 10.5% last year compared to 6.1% for fast food. Chipotle has recorded sustained double digit topline and income growth over a number of periods, including the most recent. The company has also demonstrated pricing power by passing price increases to customers without a significant impact on traffic. Certain price increases still have yet to be implemented in 40% of stores, which creates an additional tailwind. Low market saturation also creates space for future growth. It has only 1,800 restaurants as compared to McDonalds (NYSE: MCD) 14,000 in the US. Moreover, new openings typically grow faster than established locations.
Q2 2015 operating margin improved 250 basis points to 18.6% versus the prior year period, due to price increases and food expense reductions. Relatively weak comparable sales in 1H 2015 are attributed to especially strong results in 2014, and this year's performance will create easier comps next year. An increase of $100 million in the buybacks will be catalytic for stock price growth. Liquidity and leverage ratios are also very favorable, indicating minimal financial risk.
The Bear Case
Chipotle belongs to a growth industry but, the space attracts heavy, fragmented competition with relatively low barriers to entry. While the company exhibits sustained high growth, the rate of expansion is slowing down. The company witnessed double digit growth in comparable sales during 2014, but 2015 guidance is just for a low-to-mid single digit growth. The company's same restaurant growth declined from 19.8% in Q3 2014 to 4.3% in Q2 2015. Traffic was almost flat in early 2015, while most of the topline growth came from the re-pricing of the menu, indicating risk for comparable sales going forward. Chipotle's aggressive expansion strategy entails challenges. Fast paced expansion reduces the chances of getting favorable location for new units; there is also a risk of cannibalization of existing restaurant sales with increasing saturation.
Even if Chipotle can effectively navigate wage increases in the long term, increasing minimum wage will negatively impact operating expenses. Combined with rising beef costs, higher wages will put pressure on margins and bottom line of the company in the short and medium term.
CMG stock is very richly priced. It is trading at 35x 2016 consensus earnings with a PEG ratio of 1.7. Chipotle's 10.2 price to book ratio is also relatively high. Panera Bread Company (NASDAQ: PNRA) trades at 29.8x forward earnings and 7.2 book, though that company has a more modest growth outlook.
Conclusions
Chipotle is an example of an well-run company with strong results, favorable outlook, excellent prospects, and limited financial risk. However, the firm operates in a changing environment with a fragmented market and low barriers to entry. Rich valuations for growth stocks in the restaurant industry are necessarily speculative, despite all of the valid optimism surrounding Chipotle's operations. Prudena's models indicate that the downside risks are inappropriately factored into the market price, while very bullish outcomes are implicitly assumed by the current market value. Long investors are chasing a possible outcome that lies near the higher end of the distribution of probable outcomes, and this is not a sound strategy for long-term fundamental investors.
Contributors: Soid Ahmad and Ryan Downie
Disclosure: I/we have no positions in any stocks mentioned, and no plans to initiate any positions within the next 72 hours.