Western Digital is facing concerns that it's product portfolio will become less relevant as new storage technologies gain importance, especially in enterprise applications. This has caused a sharp decline in share prices over the past 6 months. Given favorable analyst recommendations based earnings growth expectations well below historical rates warrants examination of the falling share prices. Prudena's residual earnings models, in conjunction with fundamental analysis indicate that the market has overreacted to the bearish sentiment which has entered the story in recent months.
The Models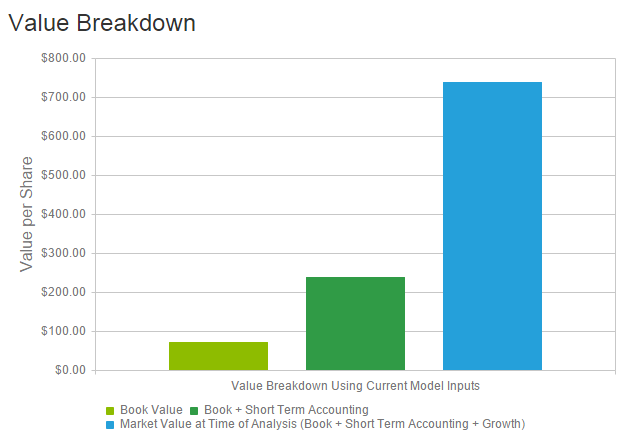 The current price of $78.52 implies long a 0.82% term residual earnings growth rate. This does not indicate substantial speculation and growth rates below historical results. Prudena's residual earnings model assumes GAAP EPS in line with analyst estimates over the next two years, followed by 6.5% earnings CAGR for a five year period before approaching GDP's growth. This model estimates value per share of $84.78, 8% above the current market price. A Monte Carlo simulation, which adds input uncertainty to the residual income model, returns a most likely value of $87.38, 11.3% above the current market price. The current price of $78.52 does fall within the distribution of possible outputs from the Monte Carlo simulation, which ranges from $72 to $105.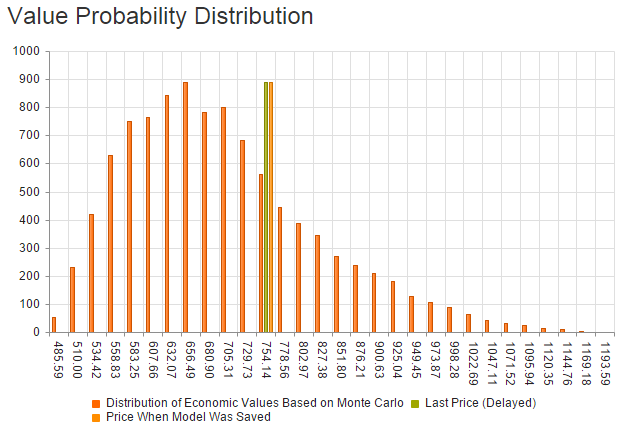 The Bull Case
The growth in data consumption is fueling the demand for storage. Smartphones, tablets and other portable devices are accelerating data creation, a trend that IDC expects to continue through 2020. Storage players will consequently benefit from this trend. Despite the rise of SSDs, hard disks (HDDs) will likely continue to be the largest portion of the storage market due to the cost convenience attached to the technology. Western Digital is the leader in HDD market holding 44% of the total addressable market, followed by Seagate with 40%. Operating in a near duopoly, Western enjoys more pricing power than participants in more competitive components markets.
Valuation and financial stability are important elements of the bull thesis. Share prices have fallen over 30% YTD as analyst forecasts fall and concerns about demand take hold. This may be an overreaction relative to fundamentals. Forward GAAP PE of 12.1x is modest, though this leads to an unremarkable 5 year PEG ratio of 1.61. Western Digital has favorable free cash flow to sales and net income ratios. Current and quick ratios above 2 indicate adequate liquidity, and low debt/equity of 0.24 indicates low financial risk.
The Bear Case
Western Digital generates roughly 45% of its revenue from client PC and laptops, an industry experiencing substantially negative trends. The PC market is shrinking, evidenced by recent results from Intel (NASDAQ: INTC) and Micron (NASDAQ: MU). Gartner and IDC have both produced research indicating falling PC market share in recent quarters. PC market trends will likely reduce the total addressable market for HDDs. Moreover, increasing flash adoption will weigh on conventional storage players. Western Digital will need to shift focus to NAND based flash technology to fully capitalize on the growth in enterprise storage demand.
A stronger dollar is weighing of Western Digital's sales, as more than half of company sales are sourced from the Asia Pacific region. Western Digital's leading position in HDD doesn't guarantee a significant place for the company in SSDs. NAND is a highly competitive space with well-established players like Samsung, Micron and SanDisk (NASDAQ: SNDK), as well as other technology leaders like Intel . Conventional players like Western Digital and Seagate are late arrivals to the market and are trying to defend their enterprise market share through acquisitions. 3-D NAND is also a viable future threat for conventional storage. Samsung, Intel and Micron are aggressively investing in 3-D NAND. According to IDC, 3-D NAND will be 65.7% of the total NAND shipments by 2017.
Conclusions
Western Digital is a market leader in an industry experiencing demand headwinds. While demand for storage devices will continue to be strong, trends look to be moving away from WDC's traditional portfolio. Concerns around demand stability and bearish analyst notes led to a decline in WDC share price of more than 30% from prior highs around $110. Analyst recommendations are still largely positive; according to Yahoo Finance, 17 of 25 analysts rate the stock buy or better.
The company has shown intent to enter higher-growth storage areas through acquisitions of SSD firms, which can be tucked into the existing sales infrastructure. Even if HDD is becoming less popular, it should continue existing with substantial market share for the foreseeable future. Balance sheet and cash flow analysis support Western Digital's fundamental soundness. Prudena's models indicate that shares are undervalued by 8%-13%, given a slightly more modest outlook than analyst estimates. It would appear that the market has overreacted in its correction, and that this is an opportunity for value investors.
Contributors: Soid Ahmad and Ryan Downie
Disclosure: I/we have no positions in any stocks mentioned, and no plans to initiate any positions within the next 72 hours.