AMD (NASDAQ: AMD) has faced significant challenges over the past four years, during which time the stock price plunged from highs over $9.00 to the current price of $1.77. Market share erosion, sharp revenue declines, margin compression, and sustained net losses have all jeopardized AMD's stability. Prudena's models illustrate the level of speculation necessary to justify a long position, and the likelihood of these outcomes does not appear to be worth the downside risk.
Models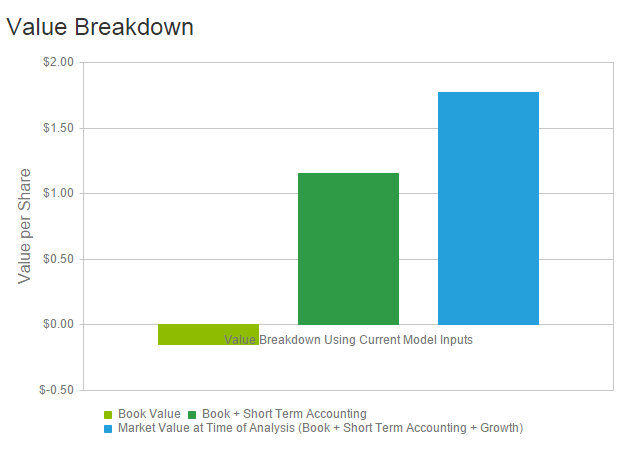 AMD's current fundamentals create challenges for a simple residual earnings model. The company currently has negative book value and is expected to post GAAP net losses for the next two years. Consider a multi-stage residual earnings model which assumes 8% required return, return to profitability in 2016, profits of $0.20 in 2017, and 6.2% EPS CAGR ten years into the future. Even under these bullish assumptions, the model estimates value per share of $1.71, 3.4% below the current market price of $1.77. AMD has not delivered net profits since 2011, though these profits were substantially higher than the $0.20 to $0.30 per share in a more bullish model.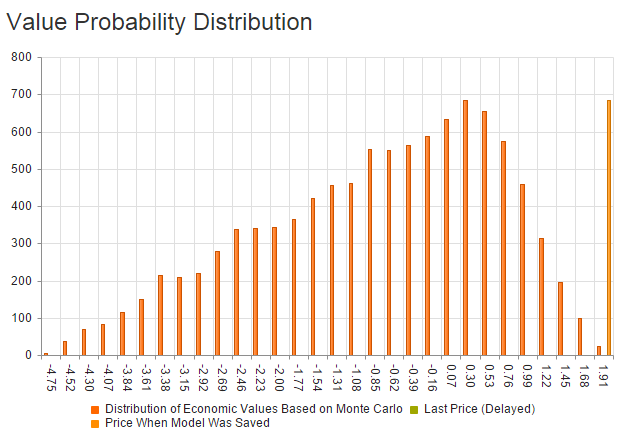 A Monte Carlo simulation based on a simplified residual earnings model and taking an aggressively bullish range of inputs predicts a most likely value per share of $0.54, with the distribution of possible values extending well below zero, indicating possibility of bankruptcy. Prudena's models demonstrate that long investors are implicitly assuming a return to earnings levels not achieved since 2011, or alternatively that the true value of AMD's assets are materially understated by the balance sheet. Both of these stances require speculative optimism.
The Bull Case
AMD has shifted its focus from PC to avoid sluggish growth and competition from the dominant market leader Intel (NASDAQ: INTC). AMD is focusing instead on gaming, immersive platforms and data center infrastructure to reduce its PC exposure. The company generated more than half of its revenue from the Enterprise segment during 1H 2015, which displayed 13% sequential growth. Specifically, the company is benefiting from thin client space and new design wins from Hewlett Packard (NYSE: HPQ) and Samsung. Data center holds promise for the company amid expansion of ARM custom cores and the use of advance process technology. The gaming market is expected to reach $102.9 billion by 2017. With a first mover's advantage in High Bandwidth Memory (NYSE:HBM), AMD will benefit from this growth in the gaming industry. Virtual reality applications and 4K video will continue to support demand for AMD's graphics products going forward.
AMD is expecting new product lines to stimulate growth in 2016 and 2017. The company's first 14nm CPU core architecture, Zen, is slated to be introduced in 2016. AMD's 7th generation APUs will also be launched next year, while the adoption of FinFET process technology should bolster product optimization. AMD has trailed Intel, having been unable to introduce 14nm architecture. Intel has announced a reduction in planned CapEx, allowing AMD to offer comparable technology for roughly a year before Intel tolls out 10nm in 2017. Note that AMD's processors based on lagging technology managed to beat Intel's leading node processors on several instances; 3D Mark and PC Mark had shown Kaveri, a 28nm, beating Haswell, which is a 22nm. Due to Heterogeneous System Architecture (NYSE:HSA) capabilities, AMD holds design superiority over Intel, allowing AMD to benefit substantially during the 2016 window.
AMD's K12, a custom ARM core, will allow the company to benefit from data center growth in coming years and represents an addressable market largely unpursued by AMD to date. AMD can leverage its CPU and GPU design capabilities to build a differentiated ARM core in an area in which Intel is not a major competitor. The embedded market is another growth opportunity. AMD has an edge over competitor Nvidia (NASDAQ: NVDA) due to differentiated CPU capabilities. Nvidia does have strong GPU capabilities but embedded systems generally require integrated CPU/GPU function making AMD's products a better match for embedded applications.
Looking short-term, the management is aiming to return to profitability during the second half of 2015. This will be supported by launch of Windows 10 and new MacBook Pro with AMD graphics. Debt is touted as a risk, but none of the company's debt is maturing until 2019, which gives AMD time to execute its Zen and K12 plans. The company is currently maintaining its cash above the target minimum of $600 million.
The Bear Case
Despite the future outlook and opportunities, AMD is playing catch up in process technology. Consequently, the company is consistently losing market share and is ceding pricing power. Their most recent HBM venture proved unsuccessful as Fury X was faltered relative to Nvidia's offerings, creating uncertainty around AMD's GPU performance. AMD has been shedding GPU market share since Q2 2014, according to Jon Peddie Research. The situation is not expected to improve in the short term as evidenced by AMD product reviews relative to comparably priced products.
AMD's recent financial results give reasonable cause for alarm among investors. The Computing and Graphics segment revenue declined 54% year-over-year during Q1 2015. Gross margin declined from 35% in Q2 2014 to 25% in Q2 2015 amid a difficult pricing environment. AMD recorded net losses in each of the past three years and now has negative net equity. R&D spending is down 23% since Q2 2012, below that of Intel and Nvidia, indicating risk that AMD might be unable to match competitors in design efficiency going forward.
Conclusions
AMD has experienced significant declines in revenues, margins, and income over the past several years. Market share has eroded in several key categories as the company has been unable to match Intel in certain key architectures. Financial performance and fundamentals have degraded so sharply that bankruptcy now looms as a legitimate downside risk. New technology launches in 2016 and 2017 alongside a competitive opening due to Intel's project delays offer opportunities for AMD to improve performance.
Prudena's models illustrate that AMD's current price of $1.77 assumes strong performance in coming years. To validate a long position, investors must implicitly assume that recent trends will be reversed and that AMD can return to the profitability exhibited in 2011 and earlier. Value investors should note the asymmetric risk/reward opportunity associated with the current valuation and the level of speculation required to justify a bullish opinion.
Contributors: Soid Ahmad and Ryan Downie
Disclosure: I/we have no positions in any stocks mentioned, and no plans to initiate any positions within the next 72 hours.