CAT: Which way is up?
Caterpillar (NYSE:CAT) has generally been a very good, stable investment. In fact, for about as long as it's been around CAT has been in a general uptrend, returning roughly 2400% since 1962. Not bad, until recently when the recession beat CAT up for a year in 2008. The recovery was strong and from 2009 to 2011 CAT gained some $92 during that time running from 23 to 115. With today's earnings report, one might have thought that the future of CAT was clear, but it's not. How can we trade this situation to our profit? I'll try to answer that question in this article.
Since topping out at 115 in 2011, CAT came back once again to test that level in 2012. Trading since that time has been sideways, however there has been support at $83 as seen below.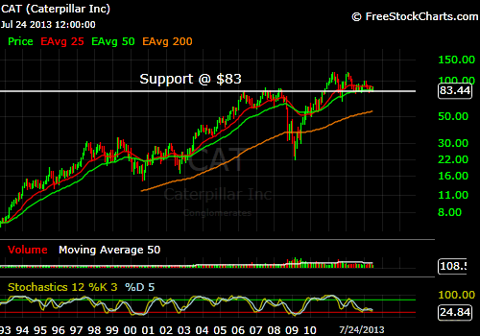 Since that time CAT has done virtually nothing besides create some tradable volatility.
But if we look more closely, we can see that CAT has been busy forming a classic pennant: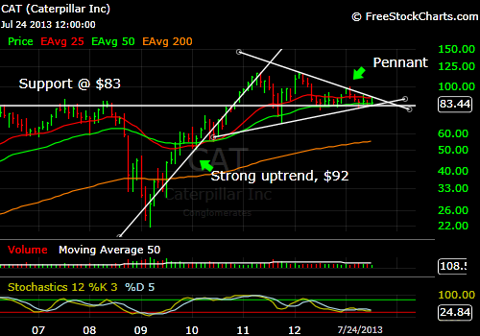 Pennants usually form over shorter periods, but they can be formed over longer periods such as this one as well.
Below we can see that the price action is nearing the apex of the pennant, signaling that some sort of breakout event is close.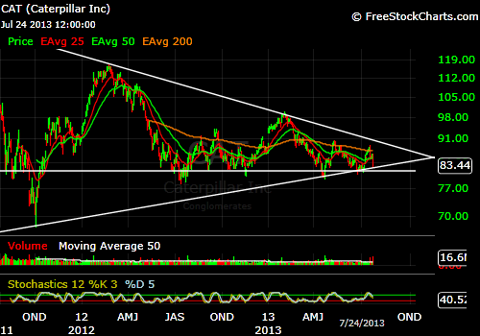 CAT reported gloomy earnings and a 43.5% drop in profit due to shenanigans in China. Even so, the price held on the lower pennant line above the $83 resistance level. Shouldn't we break out lower based on the abysmal news? If the earnings report had been after close, I would have suggested that we might see such a thing tomorrow morning, but with earnings delivered at 11am today, there was plenty of time to be bearish before close. Even now, well past 8pm, after hours CAT is trading down a mere 25 cents.
Perhaps there's still a lot of hope in CAT investors that having identified the China problem, it will be dealt with and China's overall slowdown won't be as bad as the Chicken Littles say it will be. Jim Chanos is running for the exit, saying that essentially that Chinese growth is smoke and mirrors so better get out (or short) before it all comes crumbling down.
For their part Caterpillar isn't so gloom and doom. CEO Doug Oberhelman said that "We think China has bottomed" in reference to China's declining GDP. Still, CAT saw a 20% YOY increase in sales, excluding acquisitions, for Q2, presumably driven by increased market share since overall industry sales were down.
Pennants are in a class of chart formations called "continuation patterns". They suggest that what came before them is what we should expect to follow the resolution of the pattern. In order to be a valid pennant, we should see a strong price move into the formation of the pattern, and we do, a very strong move of $92 up from $23. If Chanos is right, why didn't the price plunge on such disappointing news? Netflix (NASDAQ:NFLX) just reported substantially good numbers and good guidance, unlike CAT, and they've been punished in the last 2 days. Their report was nothing like a 44% reduction in profit. On the other hand, can we believe the word of China and Oberhelman? After all, both have a vested interest in the world seeing China as a growth engine.
What I do know is that pennants generally resolve strongly and on strong volume, so whichever way it does go, look for the strong volume for confirmation. The type of formation, a continuation pattern, suggests a breakout to the upside, and further, that move should be of the same magnitude as the move that preceded it. If it broke to the upside now, that would suggest a roughly $180 price target, in roughly the next 2 years, the same length of time for the previous run up.
If the price breaks down, I'd expect a retracement of the run up, and that would give us a target between 53 and 70.
Whatever happens, it is likely to happen soon, and with such uncertainty on both sides how can we trade the situation? I have no position in CAT one way or the other, but I think that CAT is set up perfectly for an options straddle. A simple strategy would be Jan 2014 calls and puts with an $82.50 strike price. That would cost about $1050 total per pair of contracts right now.
Disclosure: I am long NFLX. I wrote this article myself, and it expresses my own opinions. I am not receiving compensation for it (other than from Seeking Alpha). I have no business relationship with any company whose stock is mentioned in this article.
Additional disclosure: Thanks to Worden Brothers for their FreeStockCharts.com charting software