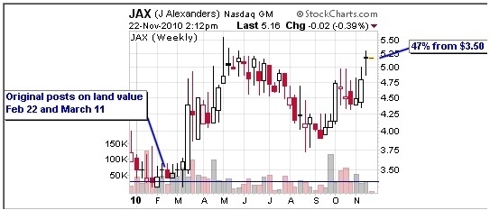 It has been 9 months to the day since I posted on February 22, 2010 my analysis of JAX liquidation value, with emphasis on land value. I made a second post on March 22, 2010, suggesting a liquidation value of $3.36, which I called a "thumbnail sketch" (I don't believe in precision with stock analysis; that is how the numbers added up.)
Interestingly, the company made an agreement to buy 800,000 shares from one of its directors for $3.60 on May 22, 2009.  This director claimed to be reducing debt and pursuing other investment opportunities.  He is still a regular seller, and as disturbing as that may be, the point I wish to make here is the price at which the company chose to make the deal. 
Book value is now at about $8. Management assumptions of late have been positive and, if that holds, may translate into a reversal of the valuation allowance taken last year, adding to EPS on the 2010 10-k.  An asset impairment charge was also taken last year and this has lowered depreciation charges against revenue, and this should also add leverage to EPS. Additionally, although the newer restaurants are still weak and have been and may continue to be a drag on total restraurant performance, they are improving.  We are coming upon the traditionally strongest quarters for JAX, 4th and 1st.  
All of these considered, last year's 4th quarter EPS was recorded as a loss of $2.30, due mostly to the valuation allowance, but the impairment charge and economic conditions also took a toll.  For the nine months year-to-date, EPS has come in at .38 cents. 1) Assuming that Mr. Stout's outlook remains positive, I also assume that there will not be another valuation allowance. On the contrary, a reversal is probably more in order here. 2) Assuming that the poorer performing restaurants continue to improve, two of which were responisble for the impairment charge, I would also assume that we will not have another impairment charge.
If all of the above hold and barring any unexpected crisis, I'm betting on the EPS to show a positive number with the next report.  Even if the 4th quarter should come in at
zero
EPS, we would still record an annual EPS of .38 cents and at today's price that would be a PE of 13.6.  If EPS shows strength in this quarter, according to tradition, and if the confluent forces I listed above materialize, I expect that PE to be published at a much cheaper level.
We will see. I bought a few more shares today, but not really enough to move my average purchase price.  I currently plan to hold my position and will re-evaluate after the 2010 10-K comes out.
As always, there is no substitute for doing your own due diligence.
Disclosure: Long JAX